10 Most Insanely Popular TNA Matches Ever
8. Rob Van Dam Vs. Sting (IMPACT, 8 March 2010)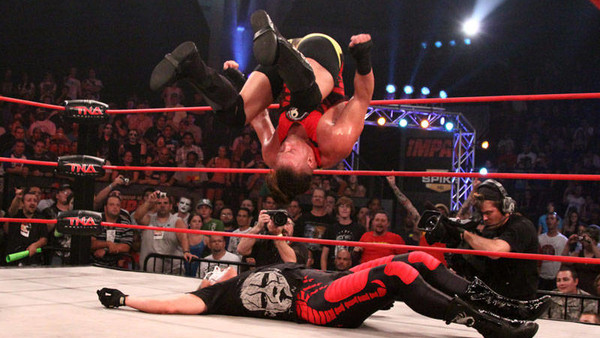 2010 in TNA was what 2000 was to WCW.
It was bad.
The arrival of Hulk Hogan and Eric Bischoff killed the Knockouts and X Divisions, abolished the iconic six-sided ring, and took the company on the road for weekly live broadcasts - a move that TNA was NOT ready for. It's well documented how financially unstable TNA was in the mid-2010s, and Hogan and Bischoff handing out big money contracts exclusively to their ageing pals did little to benefit this positively.
Rob Van Dam also joined TNA during this period, used by the Hulk and Eric-fronted regime as a major get on the night of TNA's Monday night debut. At least he didn't ruin his arrival beforehand, though, right?
If only. Here's what he said to New Rock 93.3 three days before his TNA introduction (h/t to Wrestling Inc.):-
"I would say there is a high probability that that's going to happen. The official word is that it's still [a] rumour and I haven't officially signed anything. It's been well-publicised news that I've been talking to both WWE and TNA. But, talks with TNA are sounding really good lately."
His maiden voyage against Sting was at least a good showing, right?
Wrong!
It lasted all of 10 seconds. RVD ran in from behind, thrust kicked 'The Icon', and Rolling Thunder-ed towards victory.
Before getting absolutely destroyed.
A less than impactful arrival for a positive signing, RVD (eventually) was genuinely one of the only profitable signings made during the three years Hulk Hogan and Eric Bischoff were onboard, and 8.2 million views back those claims up.