10 Most Totally Random WWE Matches Ever
Some suitably wacky matches featuring Dean Ambrose. No wonder Jon Moxley jumped to AEW...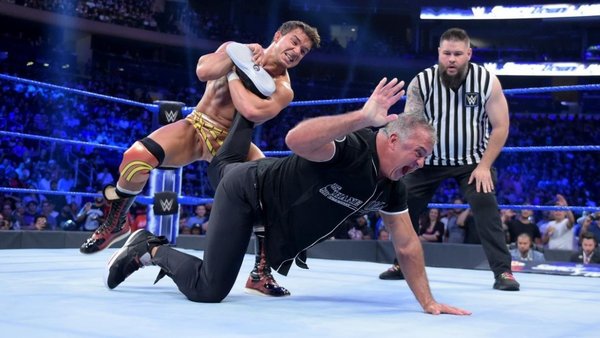 Pro wrestling matches aren't meant to be random.
They are, after all, booked.
Ideally, they are booked because you'd like to see them, and not for the hundredth f*cking time. Consider Jon Moxley Vs. Kenny Omega II, and how it told a tremendous story well before the match was made (or even happened) through the Tournament Eliminator framework.
Mox won the first meeting in a deranged, awesome Lights Out match. It was fought in his domain of expertise, and as Omega has quietly delighted in pointing out, technically, it didn't happen. Mox subsequently went undefeated and embarked on an all-time great babyface World Title run. Omega proved himself a World Champion in the tag division and, in a great in-character flex, turned singles mega-stardom on like a faucet through his Eliminator victory and caricature of a big-time player presentation. It's his time, but it's also Moxley's. This sequel is a meeting between the very best wrestler in the world and the man who is able, so effortlessly, to lay claim to the distinction. It is a match of superb dramatic parity.
This is all far better than - *checks notes* - an amateur of a wrestler vs. a man who competed at the Olympics in amateur wrestling...
10. Shane McMahon Vs. Chad Gable - WWE SmackDown 2019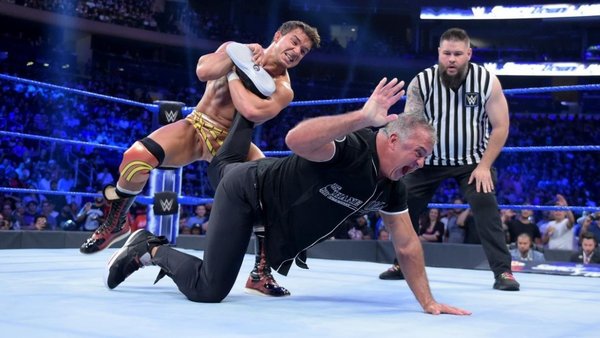 *Rubs eyes in incredulity, like they do in cartoons*
"WHAAAAAAAAAAAA?
Shane McMahon wrestling in 2019?!
Oh, wait. That somehow was a thing that was meant to be normal and indeed good. Let's try again.
*Rubs eyes in incredulity, like they do in cartoons*
"WHAAAAAAAAAAAA? Shane McMahon Vs. Chad Gable, of all people? How did that happen? Shane McMahon wasn't even in the tournament!"
Besides the World Cup, the only thing Shane McMahon ever won was a wet t-shirt competition, which is all the more impressive considering that nobody even threw water over him.
A replacement for Elias, who had suffered a legitimate ankle injury, WWE attempted to dovetail the ongoing Kevin Owens Vs. Shane O'Mac storyline into the tournament, which is how we arrived at a quite insane match graphic. Much like Shane's sweat glands, the first fall lasted just seconds. KO counted fast, Gable still celebrated like a geek. Gable did win the deciding fall without dispute, but it didn't do much for his babyface run.
Earlier in the night, the man requested a bye when he learned of his opponent's injury. A bye! Requested by a babyface!
But then he is f*cking tiny, isn't he. Little blighter was probably worried.