10 Most Unforgettable Wrestling Spots Of 2023 (So Far)
Ridiculous cage moments, ladder splashes, and other epic 2023 spots that you'll never forget.
An outstanding spot can be the difference between a great match and an unforgettable one.
These moments are the ones that often spring to mind whenever someone references a certain epic war between two long-time rivals, a stellar multi-person ladder spectacle, or a surprisingly thrilling undercard treasure.
Hell, in some cases, even the most soul-crushing developments can be immortalised by one particularly memorable moment of madness.
And 2023 has certainly not been short on astounding, hilarious, or just plain impressive in-ring action - as seen in the terrific SquaredCircle Reddit thread that inspired this very list - with family dramas, unexpected returns, and historic rivalries all delivering instantly iconic occurrences that won't be leaving your memory any time soon.
With there still being a whopping three months+ of wrestling still yet to go down this year, there's a good chance this particular collection of extraordinary in-ring occurrences will be added to, of course.
At this exact moment in time, though, from pulsating sequences involving the unleashing of many a mentor's move, to sickening landings that made you audibly gasp wherever you were on this spinning ball of mayhem, these are the 10 ridiculous 2023 spots that stand head and shoulders above the rest.
10. Trish Stratus Hangs From The Cage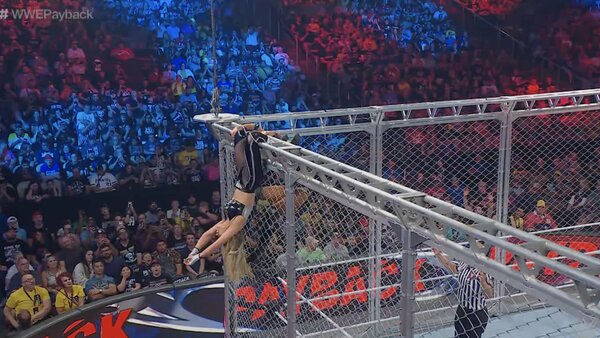 Similarly to matches involving stars attempting to scale a ladder to win the day, trying to produce a mesmerising steel cage spot that fans have truly never seen before is a pretty tall order.
However, not for the last time on this list, a set of talented stars were able to somehow do exactly that this year.
Kicking off WWE's otherwise quite forgettable Payback PLE with an almost feud-saving bang, Trish Stratus and Becky Lynch left it all inside of the massive structure in the event's opener.
Watching Stratus be superplexed back inside the cage from up high and both legends pay homage to the likes of Lita and Victoria was undoubtedly a much-needed treat. But it was a moment involving a dangling Trish that left folks with their hearts in their mouths.
Setting up that aforementioned body-breaking suplex into the squared-circle, the WWE Hall of Famer managed to masterfully and subtly lock her legs into the top of the structure before Lynch blasted her off the top.
Firing herself back with an almighty flat back bump to the outside of the cage, fans honestly believed for the briefest of seconds that Stratus was about to take a horrific fall.
Instead, an instantly iconic visual of the battered veteran hanging upside down was born.