10 Sh*tty Storylines Bobbly Lashley Endured En Route To WWE Championship
He may be riding high now, but Bobby Lashley hasn't always looked so 'All Mighty' in WWE...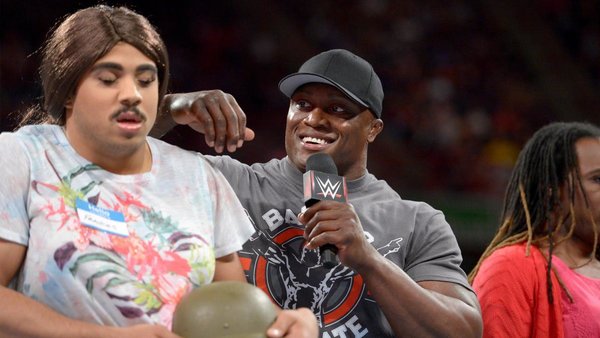 Thus far, 2021 has been a tremendous year for diehard Bobby Lashley fans.
For decades, they watched the human mastodon obliterate his competitors within both the pro-wrestling and MMA. Yet, he never quite made it to the top of WWE.
Finally, it's happened.
Take one glance at the walking, talking sculpture and you'd assume Lashley could crush a steer simply by flexing, which makes it that much more astonishing to know it took almost 17 years for him to capture the WWE Championship for the first time.
While he had a decent first run with the company, Lashley noticeably struggled to find his footing after returning in 2018. With the Universal Championship in the forefront, signs pointed to an even stronger second run, but ultimately, he was soon relegated to multi-man matches and midcard singles action.
There isn't too much to blame on 'The All Mighty' when it comes to his prior placement, however. Review the tapes, and you'll see Lashley brought the same intense demeanour to every feud and match, no matter how absurd or demeaning. Perhaps the bigger issue was the frequency of such cringe-worthy acts without having to go back much further than a few years...
11. Honorable Mention: 2007 Battle Of The Billionaires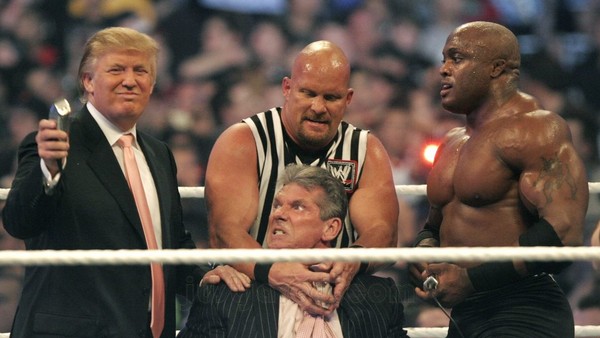 While it doesn't quite make the list due to taking place during Bobby Lashley's first stint with WWE, it's hard not to imagine 'The Real Deal' scored some brownie points from participating in the story.
Building up to WrestleMania 23, WWE desperately tried to spike the big event's buy-rate by shamelessly booking a feud between The Apprentice star Donald Trump and sports entertainment juggernaut Vince McMahon.
For obvious reasons, Trump was in no capacity to compete in an actual wrestling match. Vince might have been willing but really shouldn't have bounced between the ropes either. Therefore, when their match at 'The Grandest Stage of Them All' was announced, both billionaires selected current performers to do the dirty work for them. The winner would get to shave off the other rich man's luxurious and definitely-not-fake hair. In McMahon's corner was the 'Samoan Bulldozer' Umaga, and in Trump's was no other than Bobby Lashley.
In kayfabe, Lashley cost McMahon some pride by winning the match for the monstrous mook, but in reality, this was a huge step down for Bobby and an act that surely owed him a favor in the future. As CM Punk and other performers have pointed out in the past, whenever WWE needs you to take a hit, there's always an IOU. Either way, it's unlikely McMahon forgot what Lashley did for his company to help it receive some extra mainstream media buzz.