10 Successful Mismatched WWE Tag Teams
We go together like rama lama lama ka dinga da dinga dong.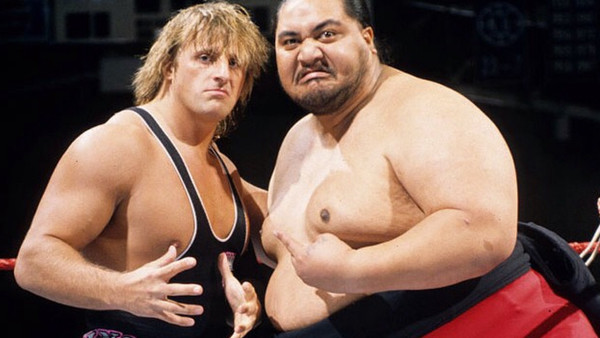 It's so heartwarming to watch a video of a man befriending a bear, it's adorable to see a wiener dog and a lion playing together, and it's hilarious watching CM Punk square off with a legitimate UFC fighter.
Okay, that last one was a joke, but I digress...
Point is, mismatches are comical, entertaining, and they tend to generate the attention and interest of others. This idea of unlikely pairings has helped birth plenty of strange teams over the course of wrestling's long and storied canon.
Several of these far-fetched teams, such as High Energy, Kenzo Suzuki & Rene Dupree, or Jesse & Festus, were pretty much complete flops due to a lack of chemistry or a crap gimmick. However, for every straight-up bad team or arbitrarily-thrown-together tandem, there's a pair of inconceivable partners that managed to ascend to the top of WWE's tag team division.
10. John Cena & Shawn Michaels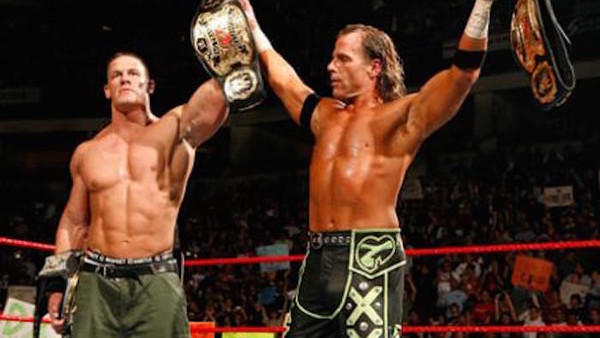 Following the merciful end of the DX vs. McMahons storyline of 2006, Shawn Michaels and Triple H embarked on a feud with Randy Orton and Edge, cleverly known as "Rated-RKO". Unfortunately for The Heartbreak Kid, Triple H went down with a torn quad at 2007's New Year's Revolution PPV. As such, Shawn was left to fend off two main event talents on his own.
Or so he thought.
That same month, Michaels was arbitrarily paired with then-WWE Champion John Cena on an episode of RAW. Though Michaels and Cena harbored some hostility towards one another over the big gold spinner belt, the two were able to fell Rated-RKO and win the Tag Team Championships, making Cena a double champion.
The two would hold the straps together for almost four months, even while competing against one another for the WWE Championship at WrestleMania 23. After losing the Tag Championships to The Hardys the very next night on RAW, they feuded with one another on and off and had what was quite possibly the greatest match in the history of Monday Night Raw on 23 April of that year.
Good friends, better enemies.