10 Tallest WWE Wrestlers Ever
9. Kurrgan (7'0)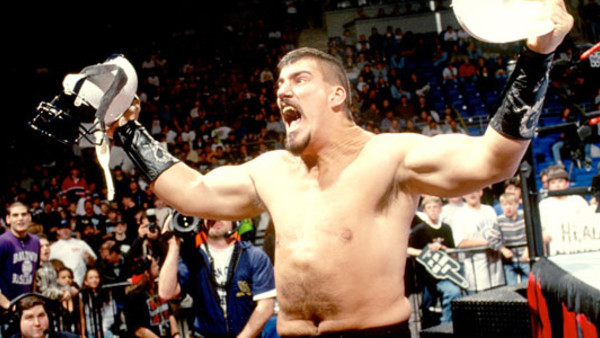 A killer before he was a comedy act, the massive Kurrgan was cast as the Truth Commission's Interrogator during the South African stable's misguided 1997 run. Blatantly positioned as the pushed project from whatever would ultimately remain of the stable, a tweaked character away from the military theme was hastily binned when he formed The Oddities alongside another notable entry in this list.
Not ever much of a talker, Kurrgan's relationship with Don 'The Jackyl' Callis could have helped propel him further up the card had Callis not been politically toxic at the time.
From potential Stone Cold Steve Austin threat to botherer of the lower card, Kurrgan's fate was sealed by The Oddities' babyface turn midway through 1998. Considered little more than a dancing fool along with the rest of the strange squad, his height was less of a factor than his inability to connect over the microphone.
What Stone Cold Steve Austin and The Rock lacked in inches, they made up for in money-drawing microphone work. Short of being the next Andre (or his pretend son...), the massive Canadian never stood a chance.
Michael Hamflett
We Need To Talk About Kevin (Nash). Michael can be found in articles or on podcasts extolling the virtues of New Generation WWF, New Japan Pro Wrestling or the new WWE angle they definitely definitely won't ruin this time.
See more from Michael