10 Things Nobody Has Told You About WWE WrestleMania
9. There Are Shockingly Few Great Openers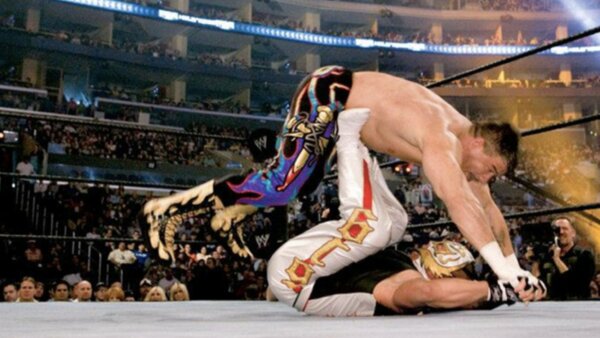 In WrestleMania "lore", the list of middling opening matches far outstrips the list of red-hot openers.
While Tito Santana and Ricky Steamboat did a fine job of ungluing the crowd in the early years of the event, it was only at VII that the first really strong opener - Rockers Vs. Haku and Barbarian, a cracking brains versus brawn match - was promoted on the Grandest Stage. It took WWE a full decade to book a truly excellent opener, but it was worth the wait; Bret's slow realisation that he had to fight his brat of a brother at X was a superb beat that intensified a flawless technical affair.
WWE's form in the '90s was otherwise shocking.
In fact, the opening slot started to feel like a curse; by WrestleMania 21, two decades and only two very good opening matches in, Rey Mysterio struggled with his mask as much as he did his opponent Eddie Guerrero. That match was a clunky disappointment, the odd electrifying moment aside.
The 2000s was saved only by two excellent Money In The Bank matches and a blackly comedic Belfast Brawl. The 2010s hardly started off hot; furthering the "curse" theory, the Shield had their one average match in a sea of rippers at WrestleMania 29. From XXX onwards, the hex was reversed, but even 'Mania 38 feel victim to it as a result of a very unfortunate injury suffered by Rick Boogs.
Nonetheless, the seminal Daniel Bryan Vs. Triple H and a handful of hot matches aside, the opener of WrestleMania was only ever good a quarter of the time at best.