10 Things WWE Wants You To Forget About The New Day
Although heels, the New Day are three of the most beloved members of the WWE roster - yet even they have a few skeletons in the closet...
The New Day are one of 2015's biggest success stories. The trio have gone from strength to strength over the course of the year, transforming themselves from a comedic midcard group into one of the hottest heel acts on the roster. They consistently garner big crowd reactions, partake in some of the most talked-about segments of each weekly Raw, and are currently in the midst of a title reign stretching over 100 days - no mean feat in the modern day WWE. However, it hasn't always been that way. Collectively and individually, the New Day boys have quite the track record for embarrassing incidents - incidents WWE would surely love for us to forget. From in-ring mishaps to backstage fallouts, numerous embarrassing moments have dotted the careers of Kofi, Big E., and Xavier. As well as events directly concerning themselves, the trio have also been forced to put up with the notorious whim of WWE's creative division, each contending with their fair share of shoddy gimmicks and poorly-booked storylines over the years. They may seem a happy-go-lucky bunch on television, but dig a little deeper, and it quickly becomes clear that life has been far from perfect behind the scenes.
10. Kofi Almost Fought Vince McMahon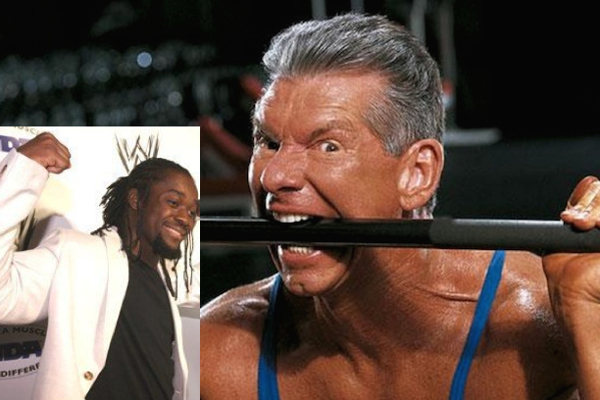 In his third autobiography, Chris Jericho tells the tale of how Kofi Kingston
almost came to blows with the owner of WWE himself
. While on a plane, Vince McMahon reportedly made a snide remark towards Kofi, allegedly exclaiming "maybe one day you'll get over". Understandably upset over the incident, Kingston nevertheless managed to hold his tongue - until Jericho advised him to stand up to the boss, and even challenge him to a fight if necessary. Kofi took that risk and confronted Vince. An argument ensued, in the middle of which Vince suddenly shot for a takedown on Kingston. The pair wrestled for a while before Vince laughed off the whole thing, thereby proving Jericho's point. Although WWE are often quick to hush up such incidents, this isn't the only time Vince McMahon has decided to test out his amateur wrestling skills against a member of the roster - and not even the first time he's done so on an airplane. He once had a heated airborne scuffle with Kurt Angle, inadvertently waking a sleeping Undertaker, who presumed Angle was attacking his boss and proceeded to choke the Olympian out.