10 Things You Didn't Know About Jack Swagger
4. Chavo Guerrero Was The Swagger Soaring Eagle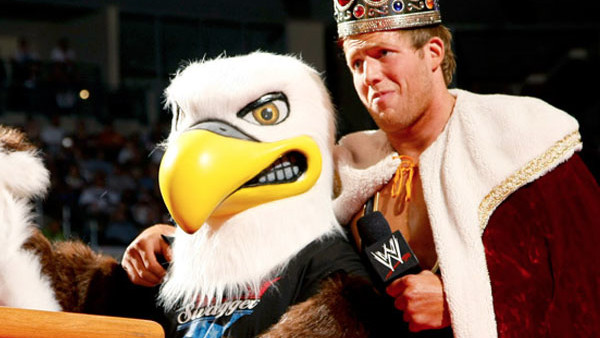 As World Heavyweight Champion, Jack Swagger didn't boast the best win-loss record - however, he was able to show more of his personality to the audience, including a comedic side.
After losing the championship, Swagger decided that the best thing for his career would be to introduce a mascot, and along came the Swagger Soaring Eagle. A man in a full-body eagle suit, the Swagger Soaring Eagle would get physically involved in matches, often cheating on "The All-American American's behalf" or taking bumps.
It's no wonder that the eagle was able to get involved - he was portrayed by wrestling veteran Chavo Guerrero. To be fair, working as the Swagger Soaring Eagle may have been a step up for Guerrero, who spent much of 2009 on the losing end of a feud with Hornswoggle.
While the eagle character didn't last long, it was clear that Guerrero was not happy with the direction his career was taking. He requested his release in 2011.