10 Things You Learn Binge Watching Every WWE Raw From 1998
Wrestling? Who needs wrestling?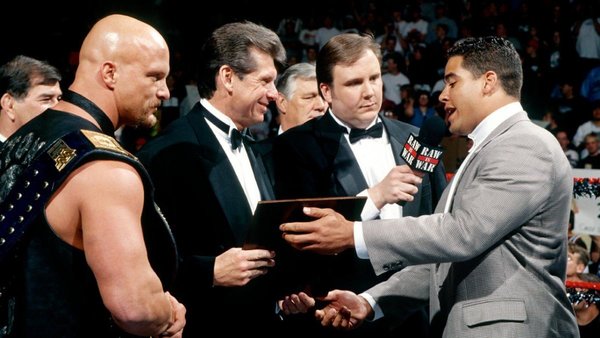 If you've been following this series of binge-watching sessions from the start, then you'll have seen the WWF gradually veer away from family-friendly action towards raunch, controversy and 'Attitude'. That, by far, has been the most enjoyable aspect of watching so many Raw episodes from 1993 onwards.
1998 took things to another level.
The explosive rise of characters like Steve Austin, The Rock, Vince McMahon, D-Generation X and more continued during a 12-month span that likely turned heads at USA Network HQ. McMahon had been unafraid to push the envelope on occasion since 1995, but he went gung-ho in '98 and re-created his own monster.
52 jam-packed episodes of Raw Is War go under the microscope here. This was the year that most think of as WWE's best - the dizzying mix of fireworks, heavy metal, combat, language, sex and drama charmed an entire generation. It's incredible to look back on 22 years later knowing what Monday nights mean now.
McMahon re-moulded Raw into a snorting beast well-equipped to beat WCW's Nitro. Here's everything one can learn from reliving that war...