10 Times AEW Made The Critics Look Like IDIOTS
9. "Nobody Cares About This Wrestler"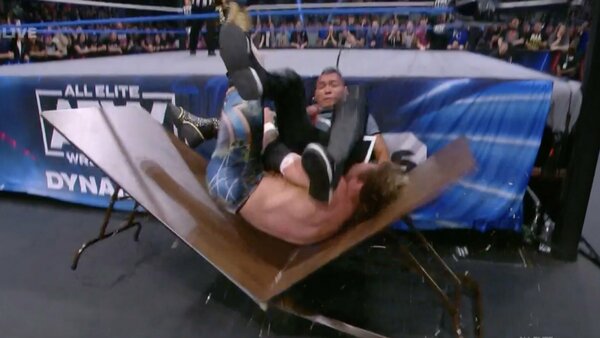 AEW fans know and care more about buzz-worthy International and independent talents than WWE fans know and care about acts that arrive from WWE NXT. Johnny Gargano got a bigger pop at an AEW show, when fans mistook John Morrison for him, than he has generated on a single edition of WWE Raw.
The "nobody cares about [Import X]" take has been disproven time and time again. People did care about El Hijo del Vikingo - so much so that his dream match with Kenny Omega in March was one of the highest-rated episodes of Dynamite all year. The main event increased viewership both overall and in the key demo, which tends not to happen.
But what about the mythical casual fan?
Who gives a f*ck?
AEW does not pursue the casual fan. If they did, they wouldn't have booked Timothy Thatcher just to get a very good grapplef*ck war out of him. AEW books for people who love wrestling, and those people went audibly apesh*t for Vikingo and Omega's physically impossible masterpiece.
WWE doesn't do this. They...
...debut Zoey Stark cold, and nobody cares. She's actually great, but the WWE fans wouldn't know this. She just turned up with no explanation about who she was. If WWE fans knew how to use Google, it might have helped!
Notice how there was no furore there?