10 Times Wrestlers Were Literally Given Championships
To be the man, you've got to find the man's belt in his bag.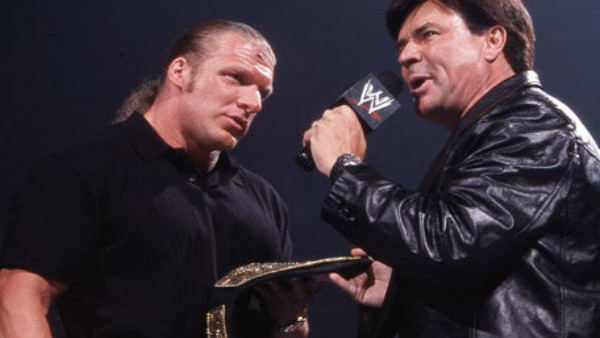 The age old grappling proverb is as follows - championships should be won and lost in the ring.
Well, they should at least appear to be won and lost in the ring.
Championships are the defining achievement in a wrestler's career and the manner in which they capture a title naturally lends credibility to their victory.
So, merely being handed (or stealing) a championship can only serve to damage both the wrestler's plausibility as champion and the prestige of the championship itself.
Despite the obvious drawbacks, the giving away of championships to create unworthy champions became a common practice during the Monday Night Wars.
The product of poorly conceived attempts to draw heat or simply uninspired booking, here are ten of the least deserving championship reigns in wrestling history.
10. Pat Patterson (WWF IC Title)
As the old chestnut goes, WWF North American champion Pat Patterson travelled to Rio de Janiero, Brazil in September 1979 to take part in a tournament for the vacant South American Heavyweight Championship.
With footballing icons Pele and Zico in attendance at the Maracana stadium, Patterson bested four of the southern hemisphere's brightest stars, including the masked Mamarracho in the final, to become the inaugural WWF Intercontinental champion.
Well... even the then-WWF didn't go into quite that much detail.
Back in the 1970s, with only regional television coverage and the dictates of kayfabe holding firm, all that was required to convince the wrestling audience of a phantom title win, was to simply tell them it happened.
Neither the date, arena, nor the faux participants were ever revealed then or to this day, as Patterson was immortalised as the first ever holder of what would come to be known as the 'workers' title.
Ironic, since Pat was probably sat on his arse when he 'won' it.