10 Times Wrestlers Were Spooked FOR REAL
In wrestling, the hazards are real. And sometimes, they're absolutely terrifying.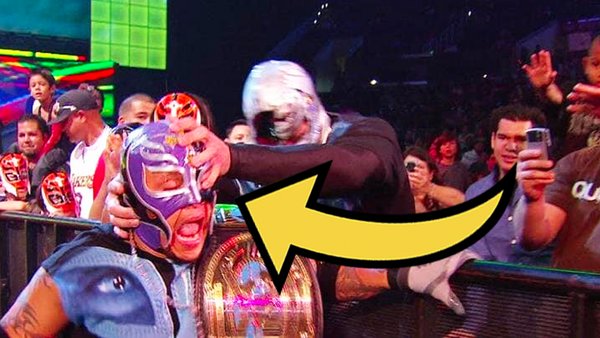 Look again at Rey Mysterio's face in the lead image for this article.
The man has risked his body and mind for an industry that has rewarded him with superstardom beyond the wildest dreams of many and a fanbase that will support him long after he's had to hang the mask up forever. He's built a legacy as the most famous man to bear his image and name despite losing his mask in WCW and losing his suffix in WWE. Starting young and putting in performances that have consistently turned back the hands of time, he's constantly defied expectations in a manner that must surely make him one of the more unflappable performers in the history of the industry.
But he's never too cool not to be scared sh*tless by a quick shock.
It's taken for granted that wrestlers should be able to handle anything, but that's the price of being a real life superhero every week on television. They are human beings first, and the job is scary enough without additional elements rattling the sh*t out of them.
The fights aren't real but these scares were...
10. Andre The Giant Extends The Long Arm Of The Law...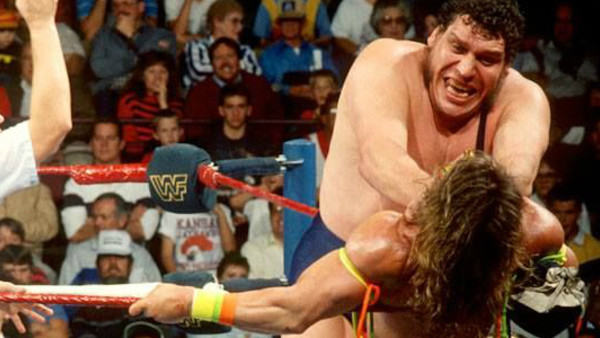 ...right into the Ultimate Warrior's face.
As told by Bobby Heenan on the infamous Self-Destruction Of Ultimate Warrior, Andre The Giant was getting sick of the Warrior's heavy-handedness during their series of Intercontinental Title house show matches in 1989.
The desired effect from all of this was to establish Warrior as a Hulk Hogan-level babyface in every possible market ahead of his actual ascension the following year. What's more, the formula was so brilliantly simple and it was working. They'd work a minute or so, the Giant would get trapped in the ropes, absorb some damage, and Warrior would secure an easy win.
It only became a problem when he absorbed too much damage. The stiff shots were getting on Andre's t*ts, and - being a GIANT - could do something about. 'The Brain' recalled the night he stuck a shoot fist clean in the Champion's painted face. Warrior was scared straight in an instant, working featherlight with him from that point on.