10 Times WWE Legends Got Squashed
Even the best of us can have a bad day.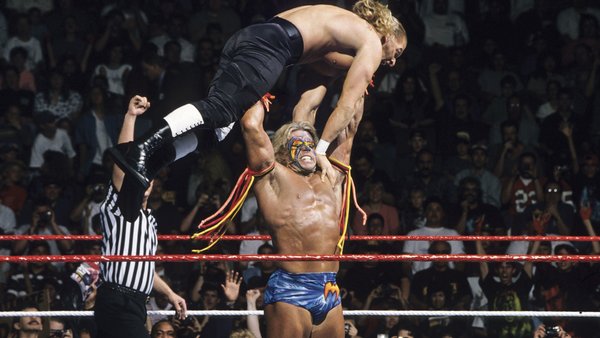 Who doesn't love a good squash match? Watching a hapless underdog getting brutalized by a more established talent is a wince-inducing guilty pleasure, up there alongside hardcore matches and Ahmed Johnson promos. It's especially fun revisiting matches where today's superstars were squashed by wrestlers who they'd go on to surpass in every conceivable way.
However, while this list will contain a couple of "Before They Were Famous" matches, it will mostly focus on bouts involving already established superstars. Some of the most memorable moments in wrestling history have come from squashes where the victim wasn't a hopeless nobody but a genuine industry legend. It's one thing to see a ham and egger getting eaten for breakfast (to paraphrase the great Bobby Heenan), but when it happens to one of the biggest names in the business it becomes a genuine Moment in wrestling history.
Whether it's a future great paying his dues, an exhilarating lightning bolt of a bout, or a face-palming moment of creative ineptitude, each entry on this list is worth watching at least once. Heck, you could probably make time for all of them in half an hour.
10. Bob Backlund (Vs. Diesel - MSG House Show Nov. 1994)
Bob Backlund is the second longest reigning WWE champion of all time, holding the company's top strap for an impressive 2135 days total. Less impressive is the fact that his final reign lasted only a week and ended in a seven second squash courtesy of Big Daddy Cool, Diesel.
Backlund was playing a demented heel at the time and had just beaten Bret Hart at Survivor Series after Owen Hart threw in the towel to screw his brother out of the title (Bret got screwed more times than a stuck cork in a wine bottle). However, Backlund was never more than a buffer to protect Bret from having to drop the belt to Diesel. McMahon wanted a new babyface as his champion but didn't want to diminish the elder Hart's star power in the process, hence Backlund being used as a sacrificial pawn to keep both Hart and Diesel looking strong.
Backlund deserved a longer run with the strap. His heel character was way ahead of its time, his attacks on backstage personnel coming across as genuinely shocking and transgressive instead of merely yawn inducing (*coughYoungBucks*cough*). Hell, after losing the belt he even did a fourth-wall breaking promo where he referred to Diesel as Kevin Nash! (We like to think that Eric Bischoff saw that and thought "Now there's an idea...")