10 Times WWE Royal Rumble Opened The Forbidden Door
8. Hiroki Sumi (Greatest Royal Rumble)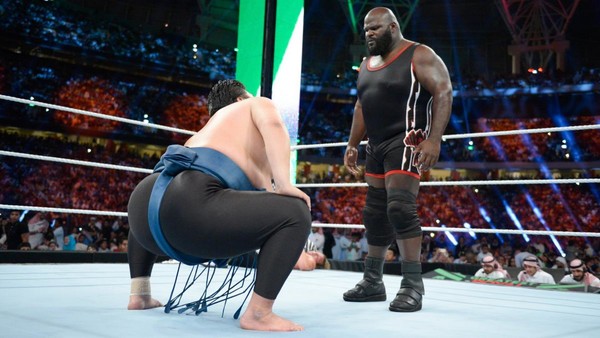 Arguably the strangest moment from an incredibly strange night, Hiroki Sumi's cameo in 2021's one-off Greatest Royal Rumble was totally in keeping with the grim tone of WWE's first Vision 2030 show in Saudi Arabia.
Everything had to be the biggest and best per the whims of the paymasters. The headlining battle royal had to be nearly double the size of the annual January tradition and burst at the seams with monsters, giants and anybody from bygone eras those pulling the strings within the Saudi Arabian Sports Authority particularly liked.
Up, then, stepped Hiroki Sumi.
No, you're not supposed to know that name from his Cagematch profile or a long-forgotten WrestleMania classic. Sumi booked his place in WWE and Royal Rumble infamy for who he wasn't rather than who he was. Per Dave Meltzer's reporting, Crown Prince Mohammed Bin Salman wanted The Undertaker, Ultimate Warrior and Yokozuna. The latter two being dead naturally created an issue, which WWE elected to partially address with Sumi's otherwise-inexplicable 46 seconds in the match.