10 Times WWE Royal Rumble Opened The Forbidden Door
9. Genichiro Tenryu & The Great Kabuki (1994)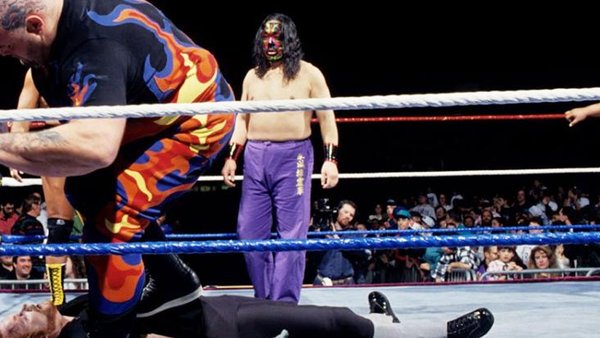 Longstanding WWE fans had been introduced to Genichiro Tenryu as early as WrestleMania VII thanks to the company's working relationship with Japan's SWS (Super World of Sports) and yet another guest spot in the Royal Rumble in 1993.
But 1994's appearance alongside The Great Kabuki was an altogether different beast.
Storyline allies of Mr Fuji, Tenryu and Kabuki were drafted in for one night only as violent problem solvers for Yokozuna. The pair joined the gaggle of regular roster heels in destroying The Undertaker during his Casket Match with the WWE Champion, and were later spotted battering Lex Luger backstage to try and hamper his chances of winning the Rumble itself. As insurance policies, they were also entered in the match as well, but neither plan worked out all that well.
Luger tossed out both men, and in Tenryu's case used the help of co-winner Bret Hart to get it done. The duo were one and done in WWE, immediately returning to their regular roles in NJPW having failed as Fuji's henchmen.