10 Times WWE Swerved The Fans Just For The Sake Of It
6. Jon Stewart Costs John Cena His WWE Title Match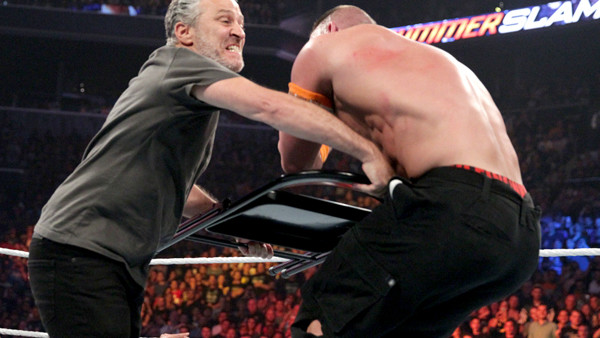 Having real-life wrestling fan Jon Stewart host SummerSlam 2015 in front of a New York crowd was a great idea. Having him interfere in the WWE/United States Championship Match between John Cena and Seth Rollins wasn't quite so inspired.
Both men put their titles and their bodies on the line, leading to a truly memorable match. As the bout hit the home stretch, though, Rollins bumped the referee and Stewart came out with a chair. Though he was ostensibly going to help Cena, everyone saw the swerve coming, and sure enough, Stewart jammed the steel into Cena's gut. That allowed Rollins to hit his finisher and pick up the win.
The next evening on Raw, Stewart explained his actions - as a wrestling fan, he didn't want to see Cena tie Ric Flair's championship "record" (that would have been win number 16). Yeah. Not exactly the most sensible reason. The whole thing was done, of course, to surprise the fans and get some mainstream publicity, and while it worked on both counts, that all wore off after about a day, and the title match at one of the top shows of the year was sacrificed.