10 UFC Fighters Dana White Fell Out Of Love With
The UFC President has a habit of falling out with the company's biggest stars.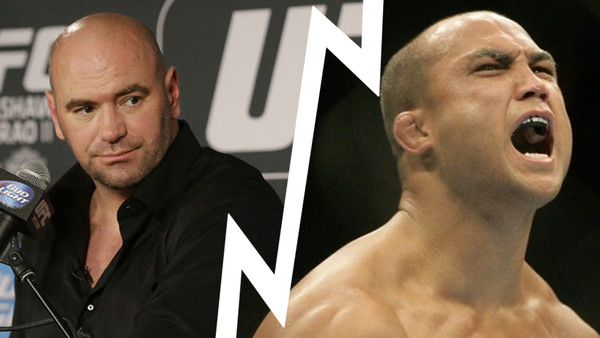 When looking at the Ultimate Fighting Championship, so many instantly think of Dana White as being the face of the MMA organisation. And that's a fair assessment, for White has been the very public front for the UFC since he became involved with the company back in 2001.
Since '01, Dana has been President of the UFC, and he's been involved in each and every facet of the business. For each UFC event, you'll always find Dana White overseeing proceedings and usually front and centre with the promotion of these shows. Point is, to many, Dana White is the UFC.
Of course, the real stars of the UFC are the fighters themselves, yet Dana's public persona and charisma often sees him positioned as the main man of the fight game. That's not to say that White hasn't had his fair share of controversies over the years, mind. In fact, Dana White has very publicly fallen out with more fighters than pretty much anyone ever to be under a UFC contract has.
Here, then, are ten examples of UFC fighters that Dana White was obsessed with, before ultimately souring on them and making no bones about calling them out.
10. Colby Covington
In the current landscape of the UFC, few have the vocal chops and sh*t-stirring ability of Colby Covington.
While this feature is about those fighters who Dana White has fallen out of love with, it feels as if the honeymoon period of the relationship between Covington and White was an extremely brief one. After their initial beef was seemingly quashed, the pair made up to the point where Dana arranged for the fighter to meet Donald Trump last year… before things again went sour soon after.
Since making his UFC debut in 2014, the brash 31-year-old fighter has only lost once and currently has a record of 15-1. In terms of ability, there is zero doubting the credentials of Covington. It's just that he has a habit of letting his mouth run away with him at times. But controversy creates cash, right?
Ahead of his UFC 245 fight against UFC Welterweight Champion Kamaru Usman this December, Chaos has been once again bashing Dana White. When discussing Dana, Covington has publicly stated how he'll slap him should he attempt to put the title around his waist if Colby does indeed defeat Usman.
For White's part, he's once again slammed Colby Covington, this time declaring him a "big mouthed f*cking idiot" as UFC 245 looms large.