10 Ups & 1 Down From AEW Dynamite (18 Aug)
A red hot Dynamite in Houston, highlighted by Sting, Sammy Guevara, MJF, Chris Jericho and more.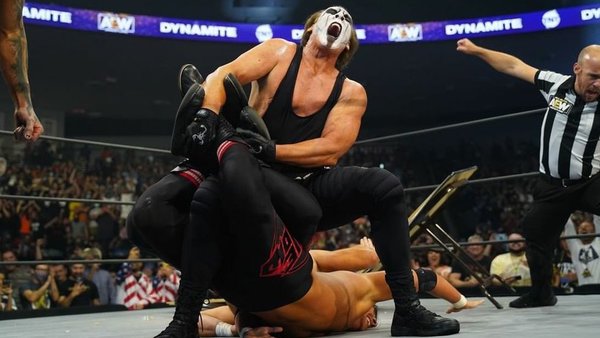 Houston provided AEW's hottest crowd since returning to the road last night, propelling Dynamite to a different level for one of the best episodes of the year.
It beggars belief that a loud minority will still tell you that wrestling is better without fans. That take seems inconceivable when watching a show like this, which featured multiple points where the wrestlers may have well as been wrestling in Mount Vesuvius' crater, particularly in the first hour.
Dynamite set a ridiculous pace with Sting and Darby Allin vs. 2point0 and Shawn Spears vs. Sammy Guevara early on. Though it tapered off towards the middle, where a handful of segments lacked the same energy, the entire building singing Chris Jericho's entrance theme to him was the audience's peak. They were tremendous throughout - as were the wrestlers who drew these reactions from them.
Dan Lambert finally arrived with his hired help, Thunder Rosa wrestled Penelope Ford, Paul Wight's in-ring debut was announced, and The Young Bucks put the World Tag Team Titles on the line against Jurassic Express's Jungle Boy and Luchasaurus (before getting some bad, bad news later on).
Let's light the fuse.