10 Ups And 12 Downs From WWE WrestleMania 34
Some great action, horrible booking punctuate Mania.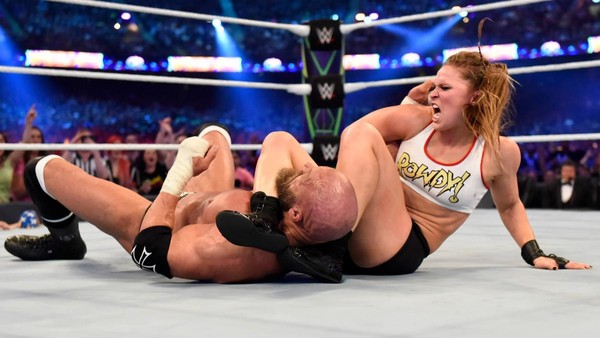 Wow, how do you rate this WrestleMania? Michael Cole said that "moments were made," and while that's true, not all of them were good.
If you were able to split this 'Mania in half and have the first four matches of the main card with the WWE Championship match stapled on, you'd have a pretty damn good PPV. Everything else was pedestrian (from an in-ring perspective) at best, awful at worst.
And since many WrestleManias are judged by their main events, it's likely that WM 34 will not be remembered as highly as it could have. Brock Lesnar and Roman Reigns delivered a mechanical, video game-style match that included blood but lacked heart, and tacked on a swerve ending that made no sense whatsoever.
We found out who Braun Strowman's partner was… and immediately wished we hadn't. Seriously, was Michael Cole unable to compete or El Torito unavailable? Either would have been a huge upgrade over the decision we got.
However, WrestleMania did deliver huge on Ronda Rousey's debut, and we got a few really good matches, so this year's installment was not a total disappointment. But after racing out of the blocks at a great clip, the PPV stumbled massively in its second half. And when you're watching a marathon of an event like a five-hour PPV (plus a two-hour kickoff show), the missteps are magnified.
So let's find out what delivered and what got taken out with the trash.