10 Ups And 6 Downs From Last Night's WWE Raw (July 25)
Balor and the BOSS... Raw's new era kicks off better than expected.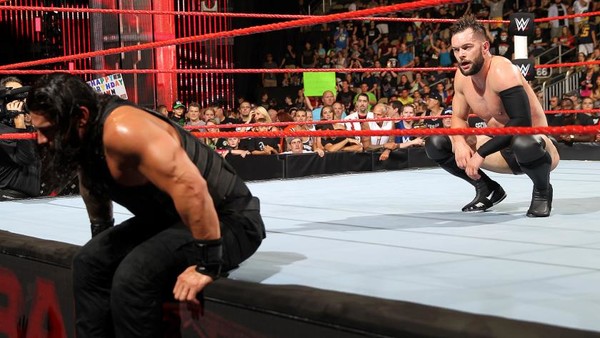 Let's be upfront here: New era or not, there is virtually no way that WWE can maintain the sort of momentum that was on display Monday night, as Raw delivered what has to be considered one of its best shows in recent memory.
Coming off a solid if unspectacular (and ultimately, irrelevant) Battleground PPV, Raw was top to bottom all action and must-see television. Backstage segments were tightly done and avoided too many silly jokes (with one notable exception), and matches had purpose, whether they were squashes to introduce new stars or PPV-quality matches to crown a new champ and name a new title contender.
We saw the debuts of Finn Balor and Nia Jax, while Braun Strowman made his singles debut (as in being separate of the Wyatt Family). Sasha Banks got an unexpected WWE Women's Championship match against Charlotte that stole the show. Fans got two fatal four-way matches that were well-done, competitive bouts. We also saw (and more importantly, heard) a new commentary team, and the difference was apparent right away.
All of this meant that SmackDown has its work cut out for it on Tuesday night, because Raw raised the bar. Whether it can maintain this momentum or even come close to duplicating this week's success is another question.
So what cashed in and what went bankrupt? Let's get to it…