10 Ups And 6 Downs From WWE Raw (Nov 18)
Downs...
6. Carrillo Missing Something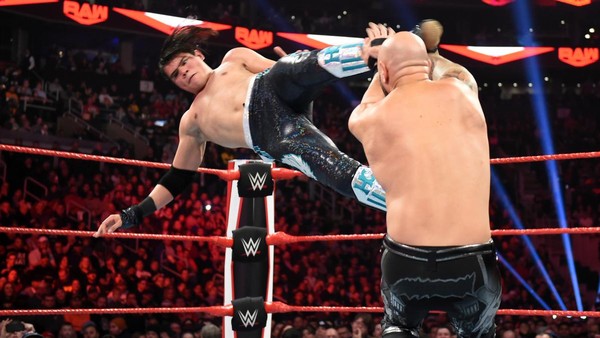 You have to give partial credit to WWE for trying to push someone new on the roster, but when it isn't done properly, it deserves some criticism.
Humberto Carrillo has potential, and he's gotten a few high-profile matches against AJ Styles recently, even pinning him on Raw last week in a six-man tag match. Monday night, he got the win over Karl Anderson – with a little help from the Street Profits.
However, Carrillo isn't getting the greatest reaction from fans, definitely not during his entrance. His high-flying moves garner some "oohs" and "ahhs," but he's not there yet. His personality isn't coming through at all, making him appear like an avatar rather than a three-dimensional character.
WWE has to know this watching the program week after week, so hopefully they will make an adjustment. It might be something as simple as letting him really go out there and perform at a high level. The endorsement from Rey Mysterio was a big step in the right direction, but unless and until we see it carry forward, this will remain as a mild critique.
It's also worth noting that on Raw this fall already, we've seen Cedric Alexander get a stop-and-start push against Styles, and like Carrillo, he's a 205 Live alum.