10 Ways WWE Screwed Up At Battleground 2017
9. Rushing To The Finish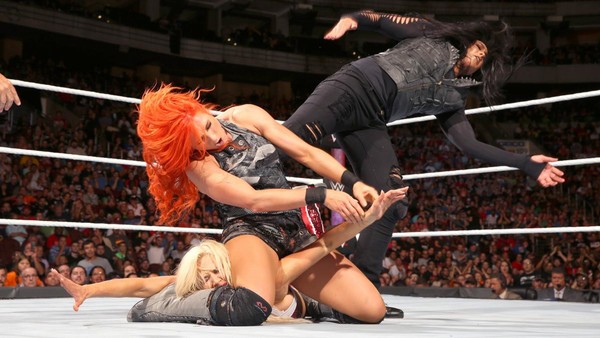 Battleground wasn't short of terrible matches, and while the women's Fatal 5 Way wasn't even close to the night's worst, it provided little excitement. Natalya, Tamina, Lana, Becky Lynch, and Charlotte fought to determine the number one contender to Naomi's SmackDown Women's Title, and it took eight full minutes to really get going, with Becky scoring the first elimination on Tamina.
A rapid fire string of eliminations followed, with Lana and Lynch biting the dust within 30 seconds. This left Charlotte and Natalya in contention, but the match was cut off as soon as they were settling into a steady rhythm. Nattie took an abrupt victory after throwing Charlotte into the turnbuckles, leaving the bout feeling rushed, thrown together, and poorly laid out.
There was no real need for WWE to cram everything into the last three minutes. The match ran for just under 11, which isn't a great deal of time, but it would have almost certainly come off stronger had the eliminations been stretched throughout the contest. Similarly, the closing stretch was far too hurried to mean anything, resulting in an unsatisfying bout typical of the multi-person affairs that have blighted the division since WrestleMania.