10 WEIRD Changes Wrestlers Made You Definitely Don't Remember
9. No-one Will Survive...This Rebrand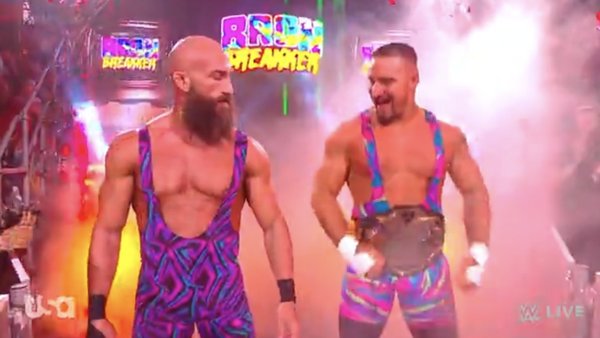 Based on everything that's happened within WWE's corporate structure of late, 2022 could prove to be the most significant year of Tommaso Ciampa's professional life. But it's not been without challenges, strife and the patience to overcome the above. Such as the time he had to cosplay as the youngster replacing him at the top of NXT.
The former NXT Champion was placed in a difficult spot when the black and gold brand became 2.0, not least because he was selected to lose the belt Bron Breakker following the switch. After doing his level best to make the second generation star in matches, Ciampa went the whole hog on is way out the developmental brand as his tag partner against The Dirty Dawgs.
The former storyline psychopath sporting a singlet was a cute contrast to the old days, but fit in a little too well on the neon day-glo brand NXT had become. The bright colours weren't totally gone forever either - Ciampa looked amazing in his Miz-adjacent attire following the jump to Raw.