10 Weirdest Moments In The Rock's WWE Career
Remember when he claimed he slept with Rusev's wife?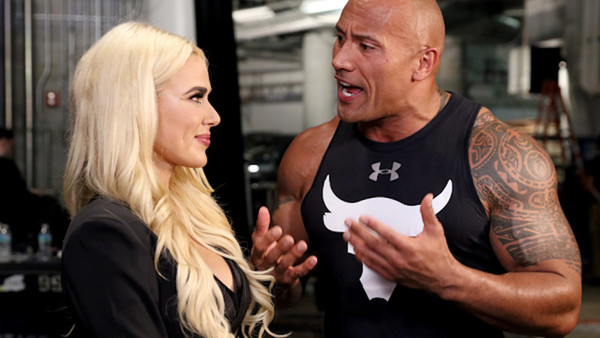 Dwayne 'The Rock' Johnson is without a shadow of a doubt, as he claims, 'The Most Electrifying Man in Sports Entertainment.' In fact, in 'All of Entertainment.'
Week after week throughout the late '90s and early '00s as well as during his sporadic returns, he entertained us with "exactly what he does best." Playground insults, imitations, and a mountain of catchphrases. For the most part, they made us laugh, cheer and recite along, keeping us in the palm of his hand. Every time he stepped foot in the squared circle, whether it be for a match or to deliver some verbal smackdown, he would prove why he was 'The Great One' every single time.
It wasn't all plain sailing though, as some of these entries will prove. The Rock has been at the centre of some questionable stipulations, surprising appearances and kayfabe breakage. It is often said that "anything can happen in WWE" and no-one is safe, not even the "Jabroni beating, pie eating, trailblazing, eyebrow-raising" Superstar.
These were weird moments to behold from a fan's perspective and, not just for The Rock, but for Dwayne Johnson to be apart of.
10. Halftime Heat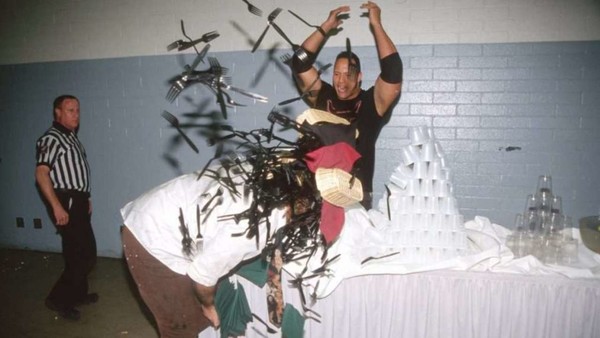 Most of 'The Great One''s best and weirdest moments, as will be evident throughout this list, came about when he shared the screen and squared circle with his bitter rival, and later tag team partner, Mick Foley, aka Mankind.
At the height of their feud, the pair squared off once again, this time in an Empty Arena Match, which was presented as an alternative to the Halftime Show of the 1999 Super Bowl.
The match was prerecorded to avoid the millions (and millions) of NFL and WWF fans tuning in missing out on any of the footballing action between the Denver Broncos and Atlanta Falcons. But how did the concept of an empty arena come about? Not to prevent a virus from spreading, but rather the result. It was big match after all, with the two being in the middle of an intense feud and The Rock's WWF Championship was on the line.
Foley was quoted as suggesting the stipulation after MTV's inaugural Celebrity Deathmatch Deathbowl had done "a tremendous rating" at half time of the Super Bowl the previous year. Fun fact, the main event of the presentation was The Spice Girls vs. Hanson!