10 Weirdest Moments In The Rock's WWE Career
9. Kiss My Candy Ass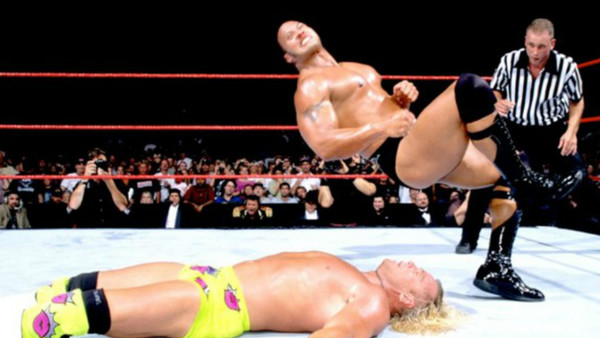 The Rock has had his fair share of memorable feuds. His rivalry with 'Mr. Ass' Billy Gunn in the Summer of 1999 is not the most universally acclaimed but it gave us two memorable moments.
The first being The Rock's promo in which he portrays God, mocking Billy Gunn, which is one of the funniest segments in the Attitude Era and WWE's entire History. Secondly, was the choice of stipulation: a Kiss My Ass match.
The stipulation was opted for to play up to the King Of The Ring winner's name, which didn't really do any of the competitors any favours. The Rock, along with Steve Austin, was the face and biggest draw of the company, so couldn't afford to lose. This meant Billy would have to make an ass of himself, with this result derailing his singles push momentum, having to pucker up and lay a smooch on a short, overweight woman's behind as The Rock "layeth the smacketh down".
The WWE has used this gimmick several times throughout the years, with Vince McMahon's Kiss My Ass Club being the most popular. This wasn't the only strange stipulation that night, Ken Shamrock and Steve Blackman engaged in Lion's Den match as Test and Shane McMahon battled it out in a Love Her Or Leave Her Street Fight.
2011 was the Summer of Punk, but 1999 was the Summer of Weird.