10 Worst Ways The WWE Women's Championship Has Been Defended
Sexy or stupid, you decide.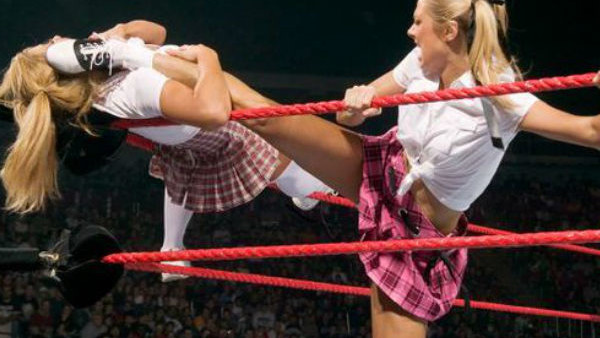 The act of winning a championship is meant to vindicate your hard work and devotion to your craft. A World Championship is therefore designed to reward a performer for either being technical superior to their colleagues, more marketable, or that oh-so rare combination of the two.
In the case of WWE Women's Championship, this tradition has been rather skewed. The recent Women's Revolution has done wonders for female competitors and fans alike, and is more than worthy of any accolades it receives. With such a radical change it can be easy to focus on the current format and ignore the reasons why fans felt the need to revolt.
Revisionist WWE history seems to paint the Women's Division's past with broad strokes. Tales of Mae Young and The Fabulous Moolah are told before a look at the likes of Sunny and Sable during the era of Divas. It's then presented as if Trish Stratus and Lita spearheaded a mini revolution before time constraints and a lack of talent prevented any advancement.
There's an old adage in sports about how you can only beat the team put in front of you. Conversely, as wrestling fans we can only react to what's put in front of us. From the reintroduction of the Women's Championship in 1998, to Wrestlemania 32, there have been some embarrassing, damaging and tiresome ways the belt has been defended.
Don a silk kimono, brandish your fluffiest pillow, and let's look at some of the worst…
10. Evening Gown Pool Match (Armageddon 1999)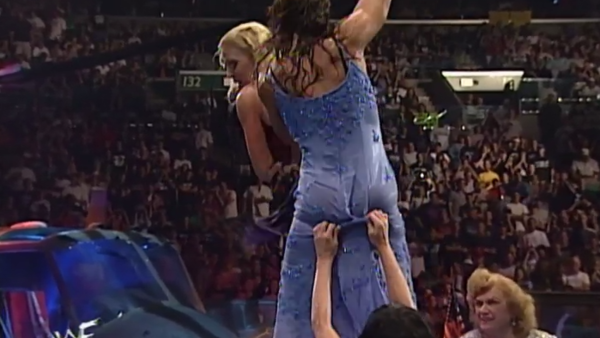 How many of Ric Flair's sixteen title reigns began in an above ground pool as his opponents tried to strip him to his underwear? That brand of activity no doubt occurred in the aftermath, yet the answer is still zero.
At Armageddon 1999, an event infamous for its lack of quality, Miss Kitty defeated Jacqueline, B.B and Ivory in a Four Corners Evening Gown Match to become Women's Champion. Mae Young and Moolah were on hand as special guest referees, presumably to ensure the strict rules of the match were upheld.
Competitors were eliminated when any one of their opponents stripped them out of their evening gown and down to their underwear. The last person dressed was declared the winner.
For three agonizing minutes, fans listened to Jerry Lawler screech (a running theme on this list I'm afraid) before his future wife Miss Kitty celebrated her win by flashing her breasts. This intentional piece of nudity even angered WWE's UK broadcast partner, Sky Television, but did create the "anything can happen" buzz that the WWF were trying to perpetuate with more and more desperation in the Attitude Era.
You can try and make the "product of the time" argument, but this match stands as a distilled example of the titillation of an entire division that stands in stark contrast to the more progressive work WWE were doing with the likes of Chyna, who entered the same event as Intercontinental Champion.