10 Worst Ways The WWE Women's Championship Has Been Defended
9. Lumberjill Snowbunny Match (RAW 31/1/2000)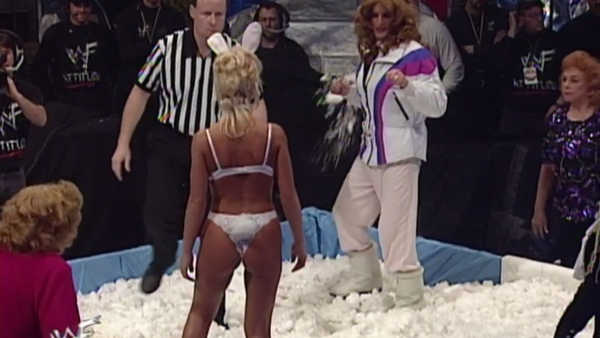 When you hear the words Lumberjill-SnowBunny-Match, your mind naturally doesn't conjure up images of quality.
Essentially contested in a large paddling pool full of fake snow, the match saw Miss Kitty defeated by former manager and referee Harvey Wippleman dressed in drag.
The Lumberjills stood throwing balls of fake snow at the competitors before Harvey, billed as Hervina, covered Miss Kitty to apathetic silence from those in attendance. After the match, Michael Cole interviewed the new champion and exposed the ruse before a brawl broke out featuring the likes of Mae Young, Luna and Jacqueline, all of whom targeted Wippleman.
Three days later, a match was set up with Wippleman, this time not in drag, losing his championship to Jacqueline in less than a minute. Some have argued that this confusing piece of booking was designed to protect Miss Kitty from being exposed as untrained - and simply not ready for a match against the hard hitting Jacqueline.
Either way, in the four months following this debacle, both Trish Stratus and Lita debuted and started performing unheard of spots such as table bumps and top rope Moonsaults.
Adding the likes of Molly Holly to the division also helped, but WWE took time to learn their lesson. Anyone who saw WrestleMania XXV will remember a strange parallel to the unfortunate legend of this short-lived angle...