10 Wrestlers AEW Must Push In 2022
With so much cream in the crop, who should rise to the top in 2022?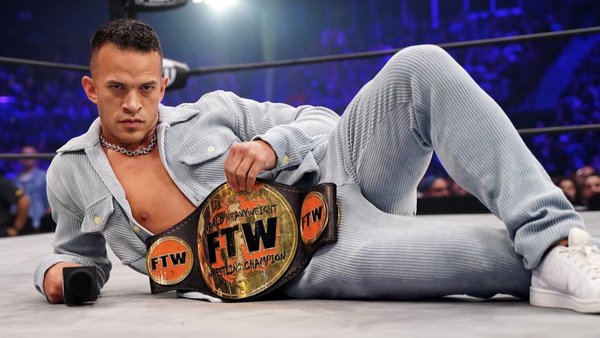 For professional wrestling fans, few moments were more exciting in recent years than the arrival of AEW. For the first time since WCW folded in 2001, WWE had some viable, threatening competition to contend with (sorry TNA/IMPACT).
Quickly establishing a raucous, thrilling product, Tony Khan and co. have mostly booked from strength to strength with a dangerous and colourful roster. While some speed bumps have presented themselves along the way (looking at you, Exploding Barbed Wire Deathmatch), AEW has won over audiences thanks to its long term storytelling and non-seizure-inducing camera work (Kevin Dunn ought to take notes).
Having defeated NXT in the ratings war, AEW now looks primed to gradually give SmackDown and RAW runs for their money as well. The roster is bursting with a diverse array of talent. From homegrown superstars like Hangman Page and MJF, to wily legends like Bryan Danielson and Chris Jericho, to rising stars like Sammy Guevara and Jade Cargill, AEW has a bit of something for everyone.
Needless to say, with a roster this stacked, not everyone can secure the big push fans might like to see them get. For AEW to continue to thrive in 2022, star creation will have to remain near the forefront of the agenda.
Here are 10 top talents the promotion should push this year.
10. Jay Lethal
Following the sad fall of Ring of Honor, longtime leading star Jay Lethal became one of the hottest free agents in professional wrestling.
Anyone who saw his TNA work knows he's a gifted impressionist and comedy guy. Anyone who saw his singles title runs in ROH knows he can be a fantastic, old school heel. Regardless of the coat of character paint, Lethal's in-ring technique always shines through.
Not only is he a top tier athlete, 'Black Machismo' also has great ring awareness and paces matches like an old pro. The 36-year-old has enjoyed a 20-year-plus career and brings a wealth of wisdom to the table. Considered a huge get for AEW, the former ROH kingpin debuted to respectable fanfare in a first class TNT Title bout with Sammy Guevara.
In a show of good faith and professionalism, Lethal put 'The Spanish God' over strong, confirming that, despite his big star status, he's happy to do business. Since then, Lethal has done very little of note. His recent inclusion into Dante Martin's war with Team Taz will hopefully get him back on track.
Before the year's over, a feud with fellow ROH legend Bryan Danielson could be a hot ticket in the land of The Elite.