10 Wrestlers AEW Tried (And Failed) To Get Over
9. The Hardy Family Office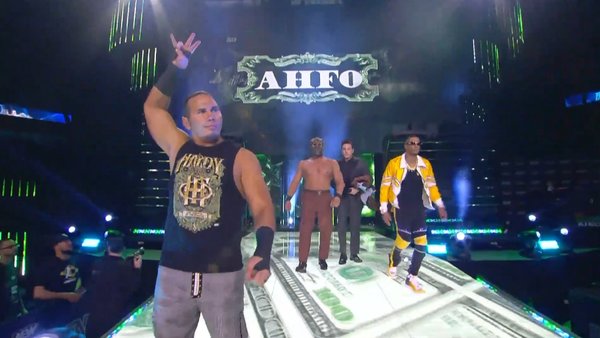 And speaking of which, it's telling Matt Hardy took one look at the heelish set of goobers he'd assembled for well over a year and quickly dusted off his '90s tag get-up the moment his brother showed up.
Despite clearly pouring his heart into making the Hardy Family Office an entertaining unit capable of adapting and sliding into any position on the card, fans couldn't help but digest the ever-beatable buffoons as little more than cannon fodder. So, why bother investing your energy in a team as convoluted as it is useless in the ring when you can simply be cheering on The Hardy Boyz jumping through tables, instead?
Sensing that to be the most profitable option, AEW too opted for the latter and have since burdened the aforementioned Andrade with the task of making the average All Elite fan embrace the hard working likes of The Butcher, The Blade & The Bunny and Private Party.
Expect Tony Khan to continue putting the crew front-and-centre whenever a more intriguing trio needs a gentle push. But this TV time and effort put into trying to form another compelling super group looks to have been a bit of a waste of it in hindsight.