10 Wrestlers Who Suffered Heat From The Undertaker
7. Brock Lesnar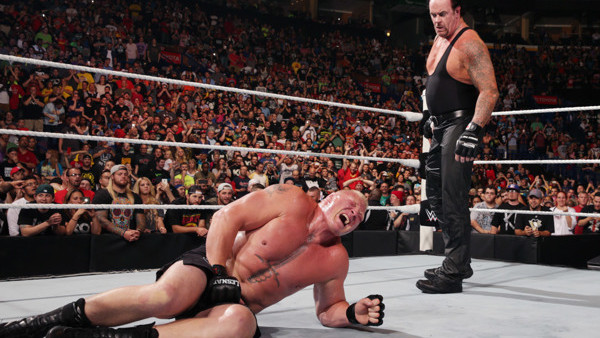 The Undertaker is Hiroshi Tanahashi, Brock Lesnar is Katsuyori Shibata. No, this has nothing to do with magnificent hair or brutal headbutts. It revolves around tradition and respect, or the lack of the latter. Brock Lesnar was given the creative world upon making his WWE debut in 2002, famously defeating The Undertaker in a series of increasingly brutal battles in '02 and '03. How did Brock Lesnar repay this faith? By upping sticks and leaving WWE. Tanahashi took forever to forgive Shibata for turning his back on NJPW. Was Undertaker as lenient with the brash Brock?
'Taker was enraged by Lesnar's decision, understandably so. The locker room had bent over backwards (quite literally, in a couple of cases) to make Lesnar look like the leader of the next generation, only for Brock to turn his back on the company. Lesnar didn't help his own case by supposedly asking for an 'Undertaker schedule', an obvious dig at the special treatment afforded to WWE's main special attraction.
Was it this anger that eventually led to the famous confrontation between the two at UFC 121? No, that was a work, but the two had a frosty relationship for years, one that bordered on the non-existent. Time heals all wounds though, or maybe money does. Business is business.