10 Wrestling Feuds Where The Bad Guy Won
Lots of Triple H, but it's not ALL about 'The Game'...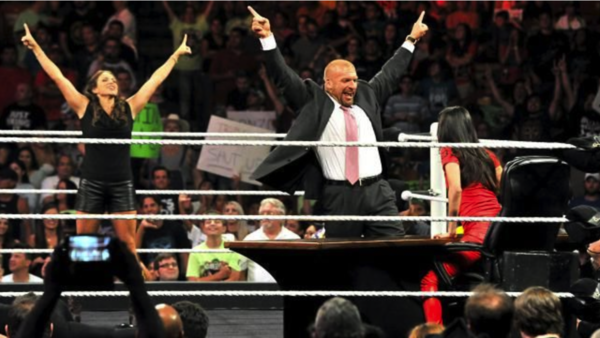 Triple H's 2003 feud with Booker T will always be the standard bearer for this particular subject. It's to pro wrestling's detriment that it was forgiven and forgotten so quickly by the company even if fans refused to let the story die.
You remember it, or if you don't, here it is again before a WWE Network documentary presents it as the angle that turned the entire company around for good - Triple H and Ric Flair made remarks that absolutely could and should be construed as racist towards World Heavyweight Championship Number One Contender Booker T,
Trapped within the confines of a period where he beat absolutely everybody, this just felt like one more vanity victory for a man that once had a credible claim to being "That Damn Good" before his insecurity overwhelmed the memories of the time. He didn't get away with murder, but he accused Kane of doing just that. He gave backstage b*llockings about not being able to get over, then ensured that any efforts made to get Rob Van Dam, Bubba Dudley, The Hurricane and others there were undone as soon as they faced him.
Hunter's rationale was something to do waiting to build the guy to take his place, but he didn't half f*cking wait around before finally elevating Batista in 2005. In an effort not to make this list all about those turgid years, let's start with something nearing the end of his run, rather than the flabby middle...
Michael Hamflett
We Need To Talk About Kevin (Nash). Michael can be found in articles or on podcasts extolling the virtues of New Generation WWF, New Japan Pro Wrestling or the new WWE angle they definitely definitely won't ruin this time.
See more from Michael