10 Wrestling Matches That Started Riots
6. Vader Vs. Antonio Inoki - December 1987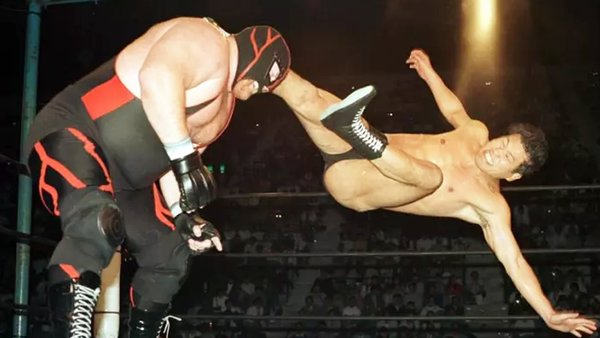 For those who think that the likes of Hulk Hogan and John Cena never did the J-O-B, Antonio Inoki was that and so, so much more.
Inoki is clearly one of the all-time greats of the business, yet he is also a wrestler who was extremely rarely on the losing side of a content. And when he did lose, boy, was it a big, big deal. Similarly, those losses often went down horrendously with the paying fan base.
A prime example of this came on 27 December 1987, when Vader handed Inoki his first loss in two years, and only his second defeat in ten years. This was all by the design of Inoki, mind, who realised that his impenetrable, undefeatable persona may soon start to wear thin on fans - to the point he'd encouraged Vader to break his nose during their encounter.
The defeat for Inoki was bad enough, but Vader then put a post-match beating on the icon that sent the Sumo Hall crowd into a frenzy. While Japanese wrestling fans are usually famed for their politeness and respectfulness, the fans on that '87 night turned vicious - setting the cushions on their chairs on fire and launching them towards the ring.
Vader was quickly escorted out of the building, the police spent an hour trying to get things under control, and the end result was that New Japan Pro Wrestling ended up banned from Sumo Hall for two years.