10 Wrestling Matches Too Horrible For WWE To Air
1. Lash Legend Vs. Sarray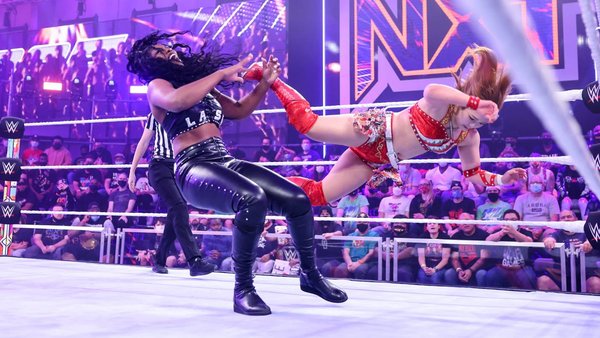 When: 17 December 2021 (205 Live).
What Happened: Oh dear.
The Wrestling Observer recently reported that Lash Legend vs. Sarray from the 17 December edition of 205 Live is now roundly considered WWE's worst match of 2021 backstage. Dave Meltzer said higher-ups were bugged by the shoddy quality too and made the call to heavily edit before the show aired.
Fire up the episode on WWE Network/Peacock today and you'll see three minutes of highlights instead of a proper/full match. There were several moments of serious miscommunication between both women, and the editing team had to work overtime to pull something watchable out of the mess.
This was Legend's second WWE match, so she deserves a little slack. Sarray won't get the same leeway - she was expected to carry proceedings and bring the best out in Lash. The fact that it's being criticised so openly is more worrying for her than her rookie opponent.
What other WWE matches were deemed too horrible to air? For more wrestling, check out 10 Things WWE Wants You To Forget About 2021 and 4 Ups & 3 Downs From WWE SmackDown (Dec 24)!