10 WWE Attempts To Capitalise On Popular Culture
WWE has tried to ride the wave of popular culture for a very long time...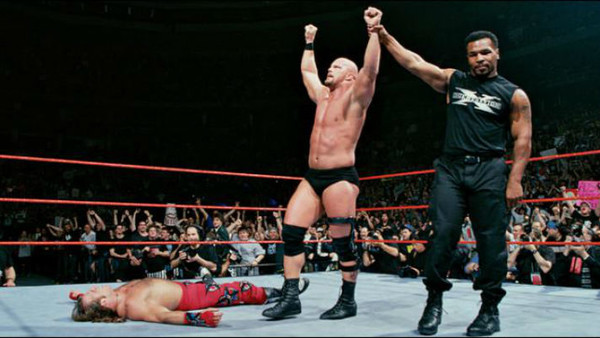 At the 1985 Grammy Awards, a sleeveless shirt suited and sparkly cowboy booted Hulk Hogan stood awkwardly behind Cyndi Lauper as she accepted an award on the world's stage, and the burgeoning 'Rock and Wrestling Connection' exploded, sending Vince McMahon's then-WWF to the forefront of the cultural zeitgeist. Ever since this moment, professional wrestling has courted celebrity and clung to cultural relevance, leading to, amongst other things, David Arquette to be hated forevermore by wrestling fans, Flo Rida getting more regular pay checks from WWE then some contracted superstars, and Donald Trump becoming the only US president in history (so far) who has a WWE Hall of Fame ring.
When popular culture has been integrated successfully into the world of wrestling, it has created some of the most iconic moments and characters in WWE history, from Mike Tyson's stare down with the company's resident badass Steve Austin, to Matt Borne's creepy assimilation of It, The Joker and Krusty as an evil Doink The Clown (let's forget about the 'Dink' era… ).
However, with WWE's former flagship show Raw celebrating twenty-seven years of continual weekly content (they're the longest running weekly episodic television program, haven't you heard?), not all ideas will be thought through, fleshed out and marketed appropriately before being thrown to the wolves on live television, and many attempts at cashing in on pop culture and current affairs have sank without a trace.
10. Golga (The Oddities) - South Park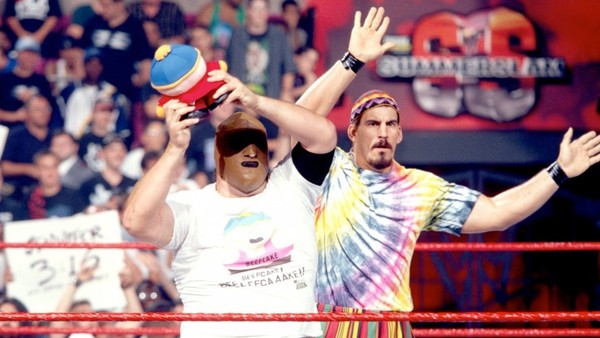 Within months of its Comedy Central debut, South Park was dominating the 18-34 demographic that the then-WWF was catering for, and as an executive would mention in the behind-the-scenes documentary Beyond The Mat, a merchandise war was raging between the two properties in supermarkets across America.
In a slightly bizarre move to let their audience know that WWF was down with the kids, a returning John Tenta was given the gimmick of Golga, a masked member of the oddities who paraded around with a Eric Cartman plush doll and wore a South Park t-shirt, because, presumably, he really, really liked the franchise.
At its best, cross-promotion between popular entities can be harmless fun that connects two similar fan bases to generate interest, such as AEW's plastering of Rick and Morty across their turnbuckles and Orange Cassidy's star turn in a lab coat and wig on the 29 October 2019 episode of Dynamite. The main difference between AEW and WWF's crossover with an animated sitcom is that Dynamite and Rick and Morty were creations which shared an umbrella network, while South Park was the competition for both the WWF and their cable television bosses in a variety of ways. Therefore, the only point of watching a 6'7'' John Tenta cradling a Cartman soft toy as the Insane Clown Posse hopped around him, appeared to be the nightmarish opportunity to peer directly into Vince Russo's brain.
Still, Tenta probably enjoyed himself more than playing a shark in his Dungeon of Doom days, and we should all be grateful that The Rock made a guest appearance on Star Trek Voyager, rather than a Klingon turning up on Monday Night Raw.