10 WWE Attempts To Capitalise On Popular Culture
8. Clarence Mason - The OJ Simpson Trial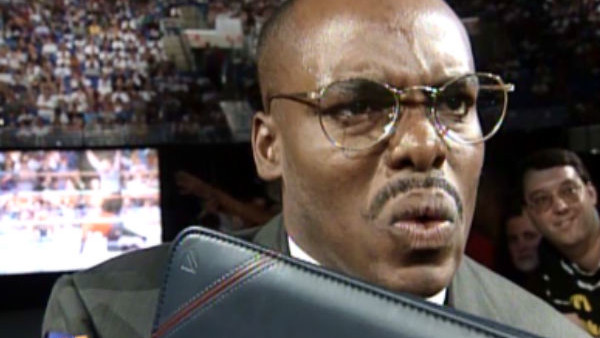 Throughout the summer of 1995, the OJ Simpson murder trial had become one of the most publicised events in the history of America. The parade of Simpson's defence lawyers would be dubbed 'The Dream Team' by the press, and the WWF, smelling a quick buck, created Clarence Mason, a smooth talking lawyer hired by a heelish Jim Cornette to fight the corrupt actions of the WWF President Gorilla Monsoon.
Mason's first appearance came after In Your House 3, in which he threatened legal action as a result of a pretty standard match disqualification, and the duo would go on to bother Monsoon in an entertaining fashion over the course of the next few months.
With the WWF in dire straits throughout 1995, nothing was off the table, and multiple attempts were made to relate the company's programming to the culture and current events of the time. This included the hiring of a Bill Clinton impersonator, presumably for the Republican McMahon to make political digs at the Democrat President, while showing that the WWF were in tune with a generation that had forgotten about them since the late '80's boom. Clarence Mason would go on to cement himself as an entertaining heel manager, continually questioning the powers that be and throwing the legal book at various superstars of the time, but whether taking inspiration from the OJ Simpson trial actually boosted the WWF's ratings whatsoever is an entirely different inquiry.