10 WWE-Like Moments In Real Sport
Those times in sport that gave WWE fans a weird feeling of déjà vu.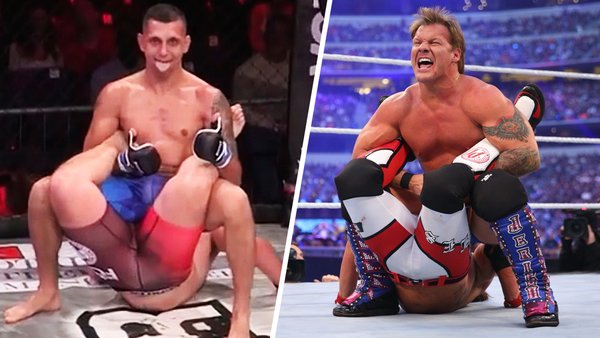 WWE and wider pro wrestling has a history interwoven with other sports, owing much to the elite level of high school and college athletics in the US, compared to the scarcity of jobs available for professional players. The worlds of gridiron and basketball in particular have both seen talented players go onto greater heights in the squared circle, such as the likes of The Rock and Kevin Nash.
This is not just a one-way street either, as Brock Lesnar and CM Punk's ventures into MMA showed that the WWE does well sometimes to tell captivating stories with characters of very different athletic capacities.
Some may even notice wrestling traits in the most unexpected places. Football's Neymar as a wrestler, for example, would probably be regarded as a Shawn Michaels of his generation, super technically gifted, a world class seller, but difficult backstage. Elsewhere it has been noted that the swagger of a Conor McGregor is surely destined for a WWE ring one day.
There are occasions across sport that have given wrestling fans in particular cause to rub their eyes in disbelief. Here are 10 times the spirit of pro wrestling leaked out into other sports.
10. F1 - 1998 Belgian Grand Prix
WWE has traditionally had a very specific way of filming backstage segments, replicated in this entry. Nimble camerawork will follow as words are exchanged, and general behind-the-scenes chaos ensues.
Michael Schumacher was the biggest heel of '90s Formula 1, a ruthless winning machine, who was no stranger to underhand tactics. One of his titles was owed in part to a crash with his championship rival in the last race of the 1994 season, and the subject of intention on Schumacher's part is still debated to this day. He also had subservient Ferrari tag team partner Rubens Barrichello on hand to concede points, should their main driver be struggling.
The Belgian Grand Prix is notoriously crash-heavy, especially in the rain, so when Schumacher went into the back of David Coulthard in the wet, few expected such an explosive reaction from the German, especially when it appeared to be his fault. Multiple cameras would follow his march to the McLaren garage with a few finger jabs and obscenities exchanged before a few brave cameramen are caught in a melee between pit crews, with a dramatic "hold me back" sequence assisted by Jean Todt.