10 WWE Money In The Bank 2021 Impulse Reactions
Fans return and so does John Cena as WWE's biggest B-Show ever provides bangers and breaking news!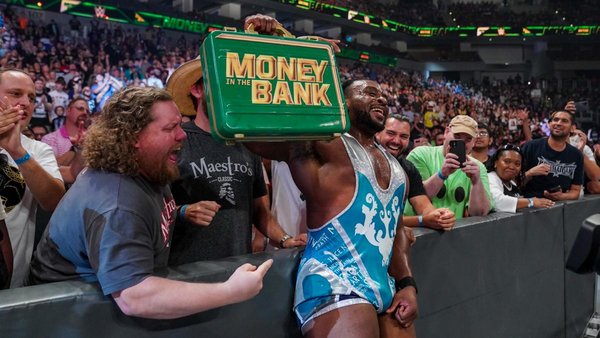 There was a unique pressure on Money In The Bank 2021, even if it was following one of the worst iterations of the show ever in 2020.
Last years event - for reasons in and out of the company's control - was a chronic mess that spoke as much to the times as it didn't. On one hand, it was a gross promotional tactic to use "climb the corporate ladder" in the branding just weeks after laying off hundreds of staff in ludicrous budget cuts. On the other, it was depressingly sh*t, like just about everything else in life at the time.
This year's show was to be carried by the return of crowds for the first time on pay-per-view since March 2020, but WWE already found itself with a bar to try and get over.
Like Shawn Michaels allegedly pumped full of magic monkey juice and taking a trip to spaceland throughout much of the mid-1990s, AEW offered an almighty "follow that, motherf*ckers" during the second week of crowds - proper crowds - being back full time. The July 14th Dynamite was a fireworks factory, showing exactly why all the a*ses in seats matter so much.
Could Money In The Bank, now a pay-per-view calendar staple, do the same when WWE needed it most?
10. Rey Mysterio & Dominik Mysterio (c) Vs. The Usos
In a company where wins and losses matter, The Usos would have earned this tag team title shot by virtue of their pinfall victory over the Champions on the go-home edition of SmackDown.
In WWE, this contest was already announced before the titleholders fell to the challengers in WWE's first full crowd match in 17 months in order to cast doubt for another match just days later. And on a Kickoff show, no less. Has 'The Tribal Chief' failed to elevate his cousins after all?
In kayfabe, perhaps. But reality was as kind to the quartet as the audience were.
The four had one of the evening's more enviable spots, and made the most of it with a micro-banger that tore at the emotions of a rapt live crowd all the way through to a final third with some gripping near falls.
Dominik took a brutal beating until his Dad saved the day. Jimmy took a bullet for his brother, but Jey couldn't get finish Rey until his sibling was back in with the assist. Nothing over-complicated, and all the better for it, even if that cheap roll-up on Friday seems even more senseless now.
But this bordered on elegant, bless them, and it was a good match to boot! As sure as the sun rises and sets, The Usos never miss on the show before the show.