10 WWE Ruthless Aggression WrestleMania Matches That Should Have Happened
9. John Cena Vs. Edge (WrestleMania 22)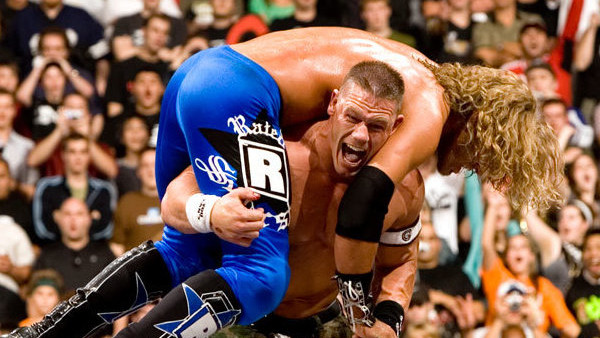 During the Ruthless Aggression Era, SmackDown was the workrate show, whereas the Raw product, was often labelled unwatchable when under the rule of World Champion Triple H.
John Cena and Edge had both grabbed the brass ring, and were on the run of their careers during this period.
With Edge cashing in his Money In The Bank briefcase on Cena at 2006's New Years Resolution PPV, a quick rivalry was launched, until Cena won the belt back after just three weeks at the Royal Rumble. This was not the most popular decision with the audience, as fans were quickly turning on Super Cena. WWE clearly had other ideas for 'Mania, because both men went their separate ways shortly after, with the higher-ups clearly preferring Triple H in the main event slot rather than Edge.
This was an injustice against the Rated-R-Superstar, as Edge had spent the previous year's crafting a compelling bastard heel persona, climbing up the card to become one of the company's most reliable characters.
The Cena vs. Edge feud resumed later in the year, and was a fantastic program, but it deserved to reach its climax on the biggest stage possible for the WWE Title.