10 WWE Stars Who Were TRULY Buried
9. The Revival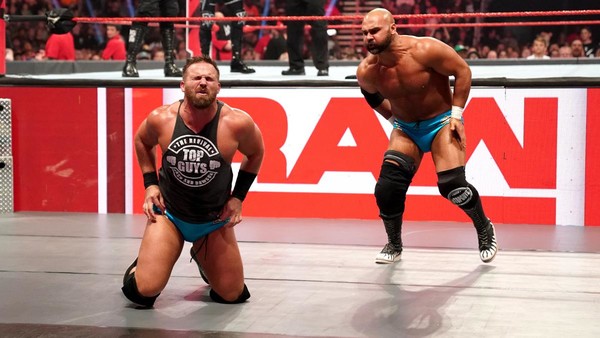 Scott Dawson and Dash Wilder were plunged under a tidal wave of Vince McMahon's worst, eternal impulses.
They are a tag team, and worse, they were proudly indebted to the southern wrasslin', in physique and work, to which Vince McMahon is allergic. They also had the temerity to each suffer injuries early in their main roster run, which seemed to indicate to Vince that they lacked the constitution for the relentless WWE grind.
The events of 2019 aren't justifiable but they are understandable, when viewed through WWE's super-f*cked up optics. They requested their release in January, which promoted Vince to both strip them of the RAW Tag Team Titles and humiliate them, ritually, in a programme with The Usos. Scooting across the ring with burning hot a*sholes, they couldn't even take a shower to soothe themselves because they'd already been booked to look eurgh gay together in the locker room a week prior.
But even before that, shortly after their return in late 2017, the Revival were effectively buried into the core of the earth by DX on RAW25 in a senseless, pathetic and totally counterproductive segment, just because the geezers were high on how cool they used to be. Hilariously - as in, all-hope-is-gone gallows humour - this was intended as a "rub".
A tag act able to engineer incredible drama in awesome matches that unify all fans and all sensibilities, they were also over-produced and broadened in their main roster showings.
Top guys: out, with any luck.