10 WWE Superstars You Won't Believe Defeated The Undertaker
These blemishes will forever stain The Undertaker's WWE record.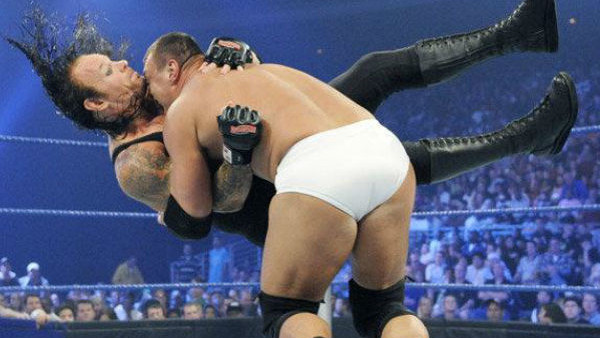 The Undertaker often doesn't get the credit he deserves for being so selfless over the course of his career.
The Phenom will go down as one of the greatest of all-time for his iconic character alone, not to mention everything he's accomplished in the ring from multiple WrestleMania main events to seven world championships. Although he holds victories over the illustrious likes of Stone Cold Steve Austin, Hulk Hogan and John Cena, that doesn't mean he hasn't suffered a few unnecessary losses along the way.
In fact, it can argued that 'Taker was a bit too generous at times with who he let defeat him. In theory, a win over Undertaker should cement any up-and-comer as a star, but that was far from the case with countless individuals. The mystique surrounding his unique persona was always strong enough that he never endured much damage from losing as often as he did, but what was more worrisome was how the people who pinned him barely benefited from the honor and faded off into obscurity soon after.
Thankfully, Undertaker has picked his spots a bit better over the last decade or so, but why WWE put so many of the following misfits over him in the first place remains a mystery to this day.
10. Yokozuna (Royal Rumble 1994)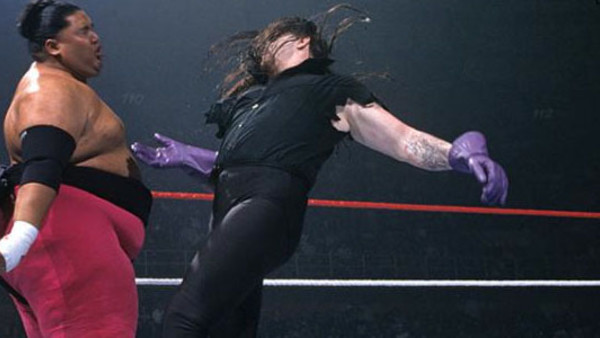 With Yokozuna being a two-time WWE champion and Royal Rumble winner, the idea of him beating The Undertaker isn't exactly a stretch. However, his second reign with the title was so poor that 'Taker losing to him as decisively as he did at the 1994 Royal Rumble pay-per-view is fairly egregious in retrospect.
Following his failed feud with Giant Gonzalez in 1993, Undertaker set his sights on the WWE Championship for the first time in over two years at the onset of 1994. There was never any question that Undertaker was merely a filler opponent for Yokozuna ahead of WrestleMania X, not to mention that The Phenom was dealing with a back injury at the time and had to be written out of storylines for the foreseeable future.
Beating 'Taker should have given Yokozuna more credibility as champion, but the match's deplorable quality completely overshadowed his victory. Yokozuna needed nine (nine!) other superstars to put down The Deadman, and even then, it was Undertaker's speech afterward from the casket that was the real focus.
There were more effective ways of writing off The Undertaker without having him ambushed by a myriad of men and pretending his soul had left his body. It's widely regarded as one of his worst matches of all-time and for good reason.
Unsurprisingly, Yokozuna's main event run ended as soon as he dropped the WWE title.