11 Awful Names WWE Wrestlers Rejected
6. Mankind - Mason The Mutilator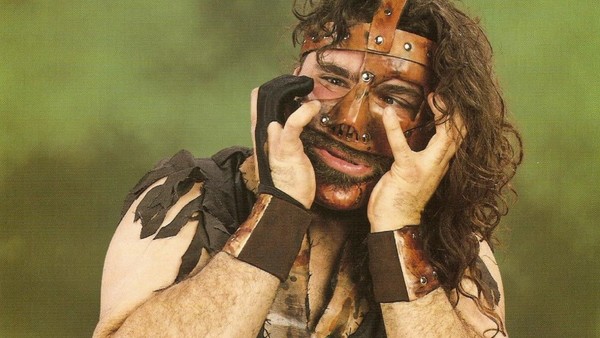 A famous one this, as Mick Foley talked about it at great length in the past. The evolution of Foley from Cactus Jack to Mankind came about when he arrived in the then-WWF, another example of Vince McMahon trying to take an established superstar and repackage them to fit his own vision. Vader didn't become The Mastodon, but Cactus Jack would indeed become Mankind.
Cactus Jack very nearly became Mason the Mutilator. Sometimes WWE creative comes up with names that question their ability to actually create anything worth a dime, leaving many to wonder how in the blue heck these fools got their jobs in the first place. Mason the Mutilator is one such name.
Mason the Mutilator sounds like a name that a child would come up when trying to conceive a villain for their superhero story, a bad guy that was mostly misunderstood and eventually came round to the good side. Like the Stay Puft Marshmallow Man, with a happier ending.
Foley saved his own bacon by shooting down the name and offering Mankind the Mutilator instead. Vince went with it, and by the time his debut came around 'The Mutilator' had been dropped entirely.