11 Match Star Ratings For WWE SummerSlam 2021
Edge Vs. Seth Rollins soars, Roman Reigns Vs. John Cena just rises above cliché...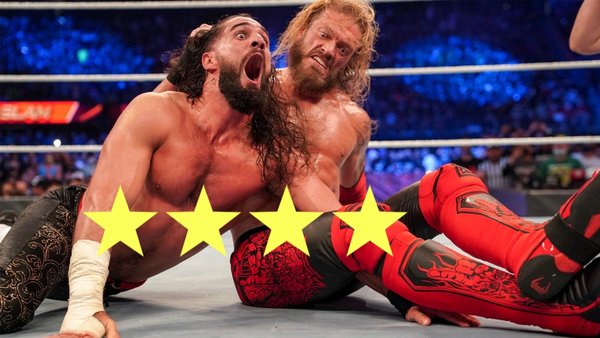 The build to SummerSlam was better than most of WWE's recent PPV offerings.
Or maybe louder is the more accurate word.
John Cena, who writes his own material, has penned a story in which he has scathingly buried Roman Reigns for being "lifeless" and generally failing to make WWE relevant and or good. How Reigns winning the match addresses this is another matter, but nobody seems to care. The whole deal scans like the sixth Eminem or Marilyn Manson studio album. The shock factor is desperate, and tired, but this stuff has an audience.
Edge Vs. Seth Rollins without being red-hot or anything told a solid story that actually rewarded those who give a sh*t about continuity. Shame about the usual, hysterical intensity. Similarly, Sasha Banks and Bianca Belair told the most obvious story well enough. WWE fans are really into RK-Bro. The pairing is inspired, and they have arrived at a Tag Team Title match with actual - Christ almighty - momentum.
Goldberg and Bobby Lashley attempted to intensify the heat, but there was no conductor. Goldberg instead speared MVP in what was a lacklustre and pointless storyline. Shouldn't Lashley have manhandled Gage in the build? To create interest in the match?
There's always a second, isn't there.
Elsewhere, the swords, supernatural dolls and 50/50'd superheroes failed to generate anything other than derision.
What about the show itself...?
11. KICKOFF: Big E Vs. Baron Corbin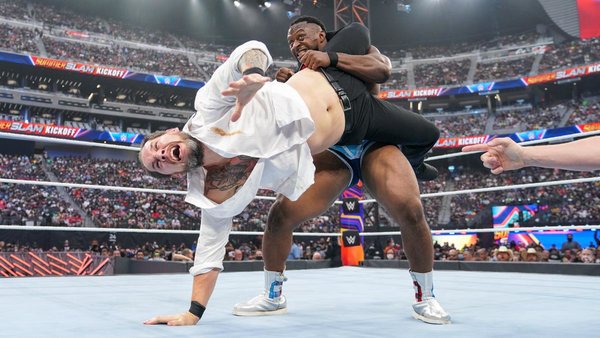 This wasn't bad by the standards of the generic, do-your-TV-sh*te-but-slower Kickoff match.
Baron Corbin is an exponentially better comedy wrestler than a big man, which is to state that, one day, he might yet reach the gentleman's three. He was half-decent value early as, when Big E was set to launch him with an overhead belly-to-belly suplex, he shook his head from side-to-side in resigned panic. Big E shook his head yes before spiking him in what was a decent enough visual gag.
Big E is too good for his own good. In an attempt to make this match worth half a sh*t, he ate the ring apron and almost came a cropper during the spear-to-the-outside spot he would do well to save for the actual PPVs.
Corbin's heat segment was Corbin's heat segment. Wouldn't a desperate and vile man begging for a payday cheat to win? Isn't this character the perfect vessel with which to bring back proper sh*thousery now that fans are back?
No: he mounted that control segment following a Big E mistake. This promotion is hopeless, man. Useless.
Big E isn't, and his pounce looked great.
Star Rating: ★★¾