14 WTF Moments From WWE SmackDown (Jan 28)
Including the set-up of a possible feud for WrestleMania 32...
The waves created at Sunday's Royal Rumble continued to be felt this week on Smackdown: perhaps that's why it took an almighty 8 minutes of Raw recapping to actually get into any actual action on the show. When it did it wasn't exactly the best Smackdown show there's ever been, but it did offer a lot of fun, and surprises that came in the considerable shape of Big Show and in Roman Reigns perfectly delivering lines to cut down both Dean Ambrose and Bray Wyatt. Seriously, he stopped the promo MVP in his tracks. There was more Ambrose being unhinged, more Goldust being inappropriate and more Chris Jericho being Dad. If you can't get any enjoyment out of that with a side of New Day, the added bonus of AJ Styles making his debut and Kalisto and Neville working a nice US Championship match. And in amongst that lot were more than enough WTF Moments to keep everyone entertained.
14. New Day Take Us Back To School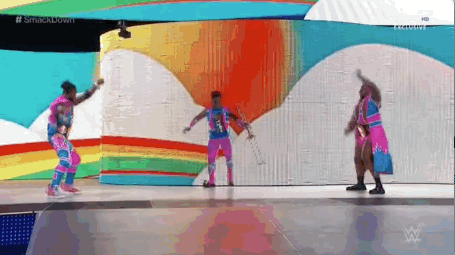 This week, not only did New Day make an uncharacteristic appearance at the top of the show - they came out with possibly their most elaborate entrance yet, engaging in a spot of double Dutch on the stage. Xavier was, predictably, the star of the show, and even mimed tripping over himself slightly towards the end of the routing. What a guy. What a team.