15 HUGE WWE SummerSlam 2018 Predictions You Need To Know
15. Doubles Dispair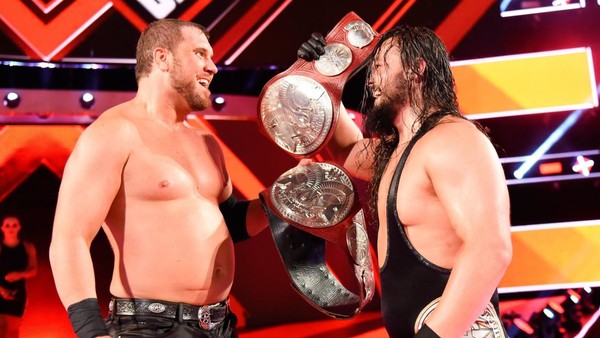 The B-Team isn't just a massive punchline that has since ceased to be funny - it's a mild bout of mirth that's spiralled beyond a joke.
Empty sentiment for the unlikely success aside, Bo Dallas and Curtis Axel stand as representatives of everything wrong with WWE's malfunctioning creative machine. Failing upwards understates their trajectory since being binned by The Miz and bantered off by Roman Reigns en route to dethroning Matt Hardy and Bray Wyatt.
The former Champions weren't much better, but at least there was some stock in their fresh union and - in Matt at least - a slither of audience investment. Bo and Curtis were fools-done-good, succeeding yet again where they should have technically failed (if their stupid name actually meant anything - if anything meant anything) on Monday's go-home show in a match that also featured pre-show foes The Revival.
Dash and Dawson were given their moniker for the rich vein of form they tapped into in late-2015 as a loving throwback to simpler tag team times. As it turns out, the main roster is too simple even for their tight offence to thrive. Gone are feuds that generate the matches they once perfected, and in turn any justification for them to win here.
Michael Hamflett
We Need To Talk About Kevin (Nash). Michael can be found in articles or on podcasts extolling the virtues of New Generation WWF, New Japan Pro Wrestling or the new WWE angle they definitely definitely won't ruin this time.
See more from Michael