15 Ups & 3 Downs From Last Night's WWE Raw (July 29)
In which Brock Lesnar kills Seth Rollins.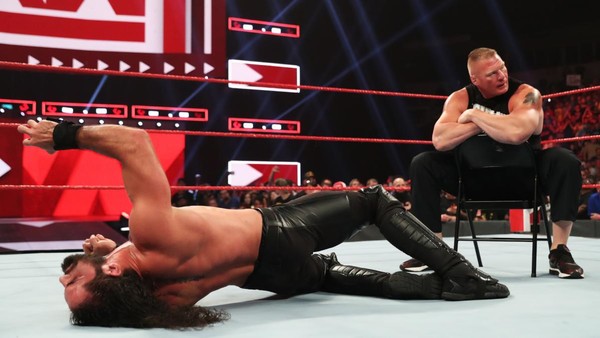 Now that was a great episode of Monday Night Raw.
One week removed from the divisive Raw Reunion show WWE came through with three rock-solid hours of programming that continued the company's generally strong SummerSlam build while bringing boatloads of entertainment value in the process. No, it wasn't perfect, but the night's flaws were as minor as minor gets. This felt like the best episode of Raw in a long time.
Much of the pre-show hype revolved around Samoa Joe and Roman Reigns' Samoan Summit, with the duo set to trade verbal barbs with generous main event positioning. Things didn't quite go to plan. The same goes for the advertised Dolph Ziggler vs. Seth Rollins clash, which ended in wanton destruction, though the United States Title number one contendership gauntlet offered everything fans have come to expect from such bouts.
Elsewhere, we got outright chaos in the 24/7 Championship hunt, a fresh Moment of Bliss episode, a potential stipulation for Becky Lynch and Natalya's SummerSlam match, and new Raw Tag Team Champions.
Fun, well-rounded, and purposeful, this episode hit all kinds of strong notes. Let's break it down.
(Scott Carlson returns to his regular role next week!)