16 Match Star Ratings For WWE WrestleMania 39
The modern WWE has its own WrestleMania X-Seven - for better and for worse...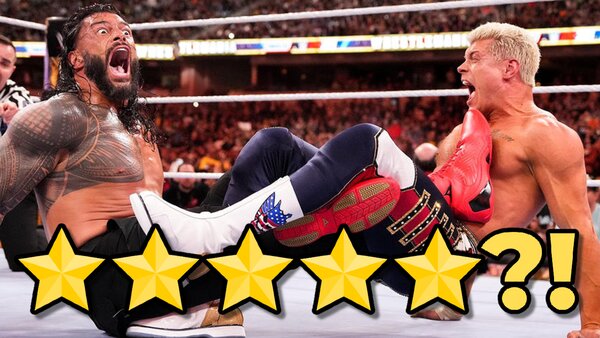 39 was the most heavily anticipated WrestleMania in years and years.
It was the first ever WrestleMania that Vince McMahon didn't book - at least, most believed that to be the case - and those statements are obviously connected.
It was the first WrestleMania since XXVI not to have relied on part-time talent to make it feel big. Between XXVII and 38, as Vince proved himself woefully incompetent at building new stars, the event relied on the Undertaker, The Rock, Brock Lesnar, Ronda Rousey, Batista and Steve Austin to feel like WrestleMania.
39 bucked the trend.
Cody Rhodes Vs. Roman Reigns felt enormous. The Usos Vs. Sami Zayn & Kevin Owens might be the most WWE has ever cared about tag team wrestling. Rey Mysterio Vs. Dominik Mysterio was unashamedly silly but very over soap opera. John Cena and Brock Lesnar worked the show, yes, but it doesn't feel like it would be a B-level PPV in a stadium without them.
In general, with its hugely impressive streak of gate records and domination of the Nielsens, growing its televised audience and no-selling the decline of the cable industry, WWE felt back. WrestleMania 39, and thhe critically acclaimed build, had much to do with a feeling thought forever elusive in the dark age of 2019-2020.
Did it deliver...?
As a spectacle, yes. It was the biggest WWE has ever felt (even when it was actually bigger).
In the ring...?
15. Austin Theory Vs. John Cena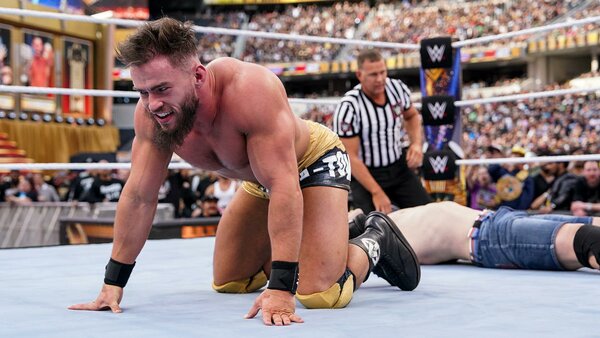 John Cena did the honours, but his match with Austin Theory did not do a thing for his opponent.
Even before the finish - Theory kicked Cena in the balls after visually tapping out following a ref bump - Cena didn't take Theory seriously. He didn't tan and barely bumped, instead writhing on the floor as Theory worked a generic WWE starter kit of a heat sequence. Cena worked harder than possibly anybody in WWE history in his prime. Nobody expects him to annoy the boss and take a piledriver in 2023, but he used to be more goofy and animated than that on the sell. He wasn't even unintentionally funny here, just there, detached, on something less than autopilot.
It felt like Cena had agreed to appear because he felt obliged as a result of his positive relationship with the company. The finish was arrived at very suddenly. The match was a flat house show special with a carny TV result abruptly tacked on the end of it. Woefully generic and so non-committal that it might as well not have happened, the crowd was at least hot on the nostalgia of seeing Cena in person.
On this evidence, if people embrace such a phoned-in performance from Theory in 20 years, a miracle has occurred.
Star Rating: ★¾