17 Things You Probably Missed From WWE Raw (July 19)
Incredible MITB stats; John Cena gets bleeped; Drew McIntyre makes WWE history.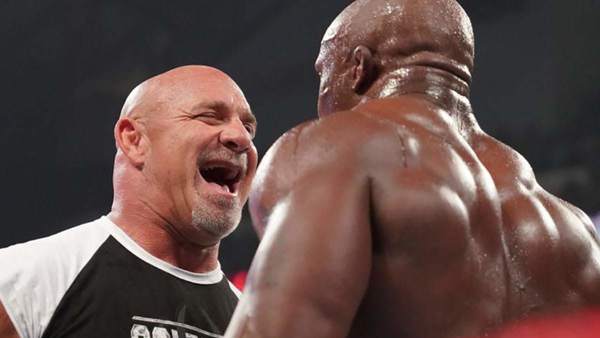 Heeeeeeee's baaaaaack.
What? No, not John Cena. Well, him too, but 'Billy Big B*llocks' has also returned to the WWE landscape and will challenge Bobby Lashley at SummerSlam. Goldberg's appearance on last night's Raw seemed inevitable - if WWE couldn't convince Brock Lesnar to launch a return, then Bill was always gonna be next in line.
This week's Raw was a fun one (even for those who hate ex-WCW icons playing before diminishing returns) though. There were loads of hidden gems on offer too. WWE's production team bleeped Money In The Bank comeback king Cena, Charlotte Flair totally ignored some of her own title history, Riddle finally updated his wardrobe and someone might've just taken the most consecutive steel chair shots in company history.
Elsewhere, Elias showed off some sneaky metal inspiration, Corey Graves forgot about things that literally happened this past February, WWE may have just teased a new match type for the upcoming 2K22 game, and the commentary team collectively sh*t their pants at ringside due to Drew McIntyre.
Here's everything you probably missed from the first Raw with fans since early-March 2020...