17 Things You Probably Missed From WWE SmackDown (July 30)
Becky Lynch is the new CM Punk; released WWE stars get a mention; fans predict the future.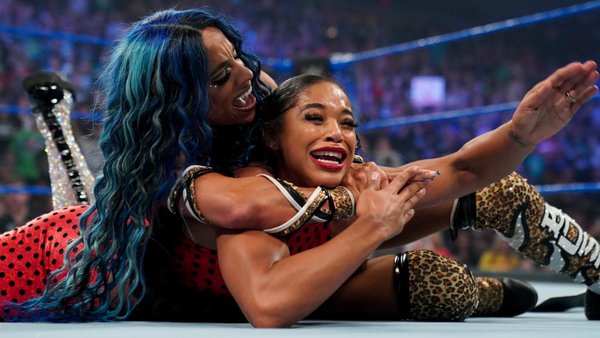 Michael Cole wasn't quite as buzzed for Sasha Banks' WWE return as he was for John Cena's back at Money In The Bank. That makes sense, but a certain 'Legit Boss' may have words waiting for SmackDown's lead announcer. Not to worry though, because fans had some words for Cole themselves.
In fact, fans in Minnesota had a lot to say in general on Friday night.
This week's hidden gems include Cena harking back to Paul Heyman's karaoke genius from last week, fans from Minneapolis predicting the future, Pat McAfee having his very own Bobby Heenan moment (which may have ruffled some feathers at Gorilla), WWE name-dropping released wrestlers and the renamed Reggie being rather impressive.
Speaking of which, there was one very WCW-esque production botch during the 24/7 Champ's backstage promo. Elsewhere, Roman Reigns laughed at fans, SmackDown's management refused to be legally binding, the live crowd chanted for a certain somebody who'll return soon, the graphics team insulted everyone's intelligence and more.
Here's everything you might've missed from the blue brand's latest stop on the way to SummerSlam...