2 Ups & 4 Downs From AEW Rampage (Mar 25)
Rampage goes backwards; Tony Khan fudges Powerhouse Hobbs; Jade Cargill is shocked!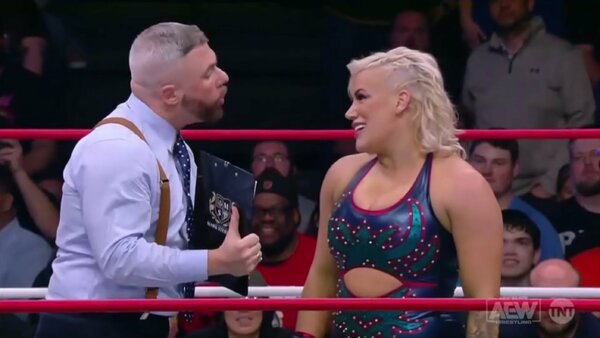 Rampage switched days this week due to a network scheduling conflict.
In other words, TNT wanted to show some football/soccer, so they bumped AEW out of the usual Friday night time slot and put the show on Saturday evening instead. That'll likely impact Rampage ratings, but they haven't exactly been wonderful lately anyway. Still, Tony Khan must be irked by so many switches.
Could the All Elite boss deliver a strong episode regardless? In a word, no. One need only glance at the 'Ups & Downs' counts to see that Rampage was a miss overall. This week's show didn't even have its usual top notch in-ring action to fall back on - it was just a poor hour of programming generally.
Rare bright sparks came in the form of Taya Valkyrie's continued rise in the women's division, and the threat of Rey Fenix getting a well-deserved singles run. Sadly, all of that was overshadowed by mini-feuds that refuse to click, insane formatting that cheats fans out of matches, and overkill booking that'd make Vince Russo proud.
Here's all the good and bad from an episode that left Jade Cargill shook.